This page is dedicated to aspiring CMA in Dubai and the Middle East. I will walk you through some facts, together with the steps and tips on how to achieve your goal to become a CMA in Dubai or other major cities in the Middle East.
Significance of CMA in Dubai, Qatar, and the Middle East
The membership in this region has been growing 30% year on year, and according to IMA data, there are more than 7,000 members in 2012. The region is so important to IMA that it compiled a detailed salary report specifically for this region in 2010 and 2012.
Average salary by countries in the region is one of the results of this interesting survey. You can take a more detailed accountant salary analysis in the region here.
(In US$)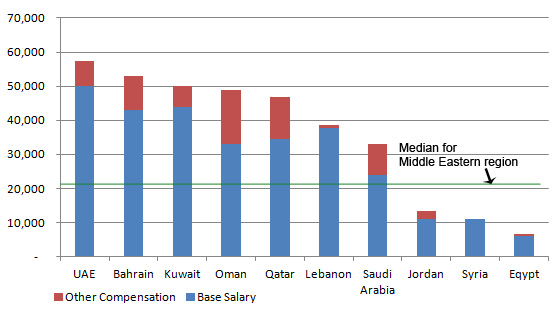 Prerequisites and Requirements
The exam prerequisite is simple: all you need is a bachelor's degree in any part of the world. The 2-year working experience requirement can be fulfilled by relevant work performed, again, in any part of the world. You can read the CMA exam requirements here.
CMA Content and Format
The exam is a 2-parts computerized exam that is 4 hours long each. You have the flexibility to take the exam on any weekday within the testing windows, which cover 8 months out of the 12 months in each year.
For the CMA exam syllabus and exam content please click this link.
Testing Center Locations
CMA candidates can take the exam in person at a Prometric testing center. Or, the ICMA now gives the option of an online remote proctored exam that you can take on your home computer, as long as you can meet certain technical requirements. But if you prefer to take the exam in person, exam sites are conveniently located in major cities in the following:
Bahrain
Egypt
Israel
Jordan
Kuwait
Lebanon
Oman
Qatar
Saudi Arabia (4 centers, 2 for men and 2 for women)
UAE (Abu Dhabi and Dubai)
West Bank
You can find out the exact address of the exam sites here.
CMA Exam Passing Rates
I have to say the passing rate is not encouraging for Middle Eastern candidates. During the 10-month period from January to October 2013, only 21% candidates passed Part 1 and 29% passed in Part 2:
The relatively low pass rate is possibly a result of English not being the first language for most candidates in this region, and that candidates rely on local review courses that may not be up to standard.
Here are my suggested remedies:
1. Don't More Time On Practicing vs Reading
As a Chinese, English is not my first language, and therefore I understand where you come from. Reading review materials written in a foreign language is boring, inefficient, and very hard, and certainly, makes you want to give up.
I would therefore urge you to quickly go through the materials and spend more time instead on the actual practice questions using the online test prep software.
Each of the questions is shorter (easier to read), and at the same time, you get better at understanding how the questions are commonly structured. To me, this is a much more efficient way to study for standardized tests that base heavily on multiple-choice questions.
2. Read My Essay Writing Tips
The essay question is another tough area. I have written this page on CMA exam essay tips specifically with international candidates in mind.
3. Take a Self-Study Review Course Instead
From my own research and feedback from Middle Eastern readers, a very common reason for failure is that people took local review courses that did not adequately prepare them for the exam.
I am sure that there are some excellent live courses out there in the region, but more often than not these courses are not as good, and more importantly, you cannot tell until it's too late.
Self-study courses, on the other hand, are used by domestic (US) and international candidates alike. By using the same review course as the US candidates, you know the quality of these courses is guaranteed, and you put yourself on a level playing field. Considering the North Americans have a much higher passing rate (50-60%), I would definitely go for whichever review courses they are using.
Most US candidates use:
Now, How Can I Start the Process?
If you are new to the CMA qualification, here is a detailed introductory post applicable to candidates around the world.
If you are familiar with the CMA Program, or if you need to retake the exam, here are a few posts that may be useful:
Best of luck with your CMA journey!