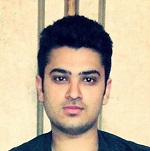 Waqar is a guest blogger who passed the CMA exam. He used both Gleim CMA Review and Wiley CMAexcel, so he has the knowledge to compare Gleim vs. Wiley CMA with an unbiased analysis. And with that knowledge, he presents a clear winner for this showdown. So, you can use Waqar's findings to help you decide if Gleim CMA Review or Wiley CMAexcel is the best course for you. Additionally, you can get even more insight into these two courses in my detailed article covering Gleim vs. Wiley CMAexcel.
My Experience with Gleim CMA vs Wiley CMAexcel
Hi! I'm Waqar. As mentioned, I used both Gleim CMA Review and Wiley CMAexcel to prepare for the CMA exam. And based on my experience, I believe Gleim CMA Review is the superior course. I have several reasons for making this choice, and hopefully, my explanations of these reasons will help you choose your perfect CMA exam prep.
1. Gleim vs. Wiley CMA Multiple-Choice Questions & Essay Explanations
The main reason I give Gleim CMA the title of best CMA review course is that Gleim has all the answers to your questions. Specifically, Gleim has answer explanations for all of their practice questions, and these explanations tell you why a given answer option is right and why the other options are wrong. And unfortunately, I did not find such a thorough resource in the Wiley course. Instead, Wiley CMA only gave me an explanation for the right answers to practice questions.
And given that you can learn even more about the exam concepts from also reading why the incorrect options are incorrect, I was very thankful that Gleim CMA Review supplied explanations for the incorrect options as well. What's more, Gleim also gives you detailed explanations for all the CMA essay questions, too.
Finally, if you don't understand why a given answer choice is correct after reading the explanations, then you can ask the accounting experts at Gleim for even more help. I didn't have to use this feature very often, but when I did use it, it made all the difference. The Gleim team was able to identify what I was missing and could very easily clarify the main point causing my confusion.
2. Gleim CMA vs. Wiley CMAexcel Accuracy
Another reason why I can't give the title to Wiley CMA is that I found a lot of mistakes in the Wiley course, which made me uneasy. While not every question in the course had a mistake, I found some mistakes in either the question or the answer explanation after answering 40-50 practice questions.
In contrast, Gleim CMA Review maybe had one mistake in it, if any at all. So, I didn't need to email Gleim CMA to let them know about errors in the course. Instead, I could just focus on my preparation and not worry about the accuracy of the material I was learning.
So, I think the Wiley CMAexcel course has mistakes in it because this course is still quite new when compared to Gleim CMA Review. Consequently, the Wiley content is not as tried and true as the Gleim content.
And because studying for the CMA exam can take several hundred hours (depending on a number of factors), your course needs to be as efficient and effective as possible. So, the fact that the Gleim materials are more reliable is another big reason to give them the win.
3. Wiley CMAexcel vs. Gleim Question Difficulty
Another issue I had with Wiley was the question difficulty. Mostly, I found Wiley CMAexcel's questions easy and basic. The course didn't have enough tough questions, which is a problem because the CMA exam contains some very difficult questions. And in order to do well on the CMA exam, you want to minimize the number of surprises you encounter.
On the other hand, Gleim CMA includes more than enough difficult questions in its course. And I saw many questions on the CMA exam that were equally as difficult as the ones I saw in my Gleim CMA course. Therefore, because I used Gleim CMA Review, I was very well-prepared for the CMA exam. So, for these reasons, I present Gleim as the winning course.
4. Wiley CMA vs. Gleim CMA Costs
Wiley CMA Review is a much costlier course than Gleim CMA Review, but don't let the price fool you. Some people think the best course must be the most expensive one, but that's not always true.
I believe that Wiley's course is more expensive because Wiley spends a lot more on marketing efforts and has paid a lot to become the official prep course of the IMA. And just because Wiley is the official IMA prep course doesn't mean anything. The ICMA writes the CMA exam, not the IMA, and the ICMA provides all review providers with the same info. Therefore, Wiley CMA has the same insight as Gleim CMA as far as exam content goes. So, if you don't buy into the advertising, you'll be just fine. 🙂
However, you can save on either course using these CMA review course discounts (thanks, Stephanie!). Thanks to Stephanie's diligent work and her dedication to candidates, she's able to provide her readers with the very best CMA review discounts available.
5. Gleim vs. Wiley CMA Overall Features
Wiley has an advantage over Gleim in terms of course features, however. For example, Wiley CMAexcel has a digital CMA app for offline studying, whereas Gleim does not. What's more, the Wiley course also has some additional video lecture hours, though not a significant amount.
But, while Gleim CMA Review is lacking in these ways, I don't believe the additional features of the Wiley course justify the additional cost of choosing Wiley CMAexcel Review over Gleim CMA Review. Furthermore, according to my experience, choosing Wiley CMAexcel for the features will not prevent you from being disappointed by the overall course content.
The Winner in the Gleim vs Wiley CMA Battle
As I stated earlier, I declare Gleim CMA Review the victor in this matchup. Gleim outperformed Wiley in nearly every way, and the price of the Gleim course is much more affordable. Furthermore, I believe I owe my passing performance on the CMA exam to Gleim CMA Review. Wiley CMAexcel was helpful to have as a supplement but was not the foundation of my success. Therefore, I highly recommend that you use Gleim CMA Review and only get Wiley CMAexcel if you need extra practice questions. But remember: If you supplement with Wiley, you'll need to be prepared to spend quite a bit on this pricey course.
Thanks for considering my take on Gleim vs. Wiley CMA. I hope you can pass the CMA exam as I did!
And if you have any questions about CMA review courses or are confused in any way, please contact Stephanie.
Gleim CMA vs Wiley CMA Notes from Stephanie
I agree with nearly everything Waqar has mentioned here. I'm a pretty cost-conscious person, so I really love the fact that Gleim CMA Review is more affordable but still has everything you need to pass on the first try.
Also, Waqar is correct in saying that the ICMA administers the CMA exam. So, even though the IMA says Wiley is their preferred course, the team at Wiley doesn't have any insider information about the exam content. Consequently, purchasing the Wiley CMA course does not supply you with materials that have been tested on the CMA exam. The CMA exam is non-disclosed, so no review provider has any secret information about it.
If you still aren't sure that Gleim or Wiley is right for you, check out this review of Wiley CMA vs. Becker CMA. After all, Becker is another good choice for CMA prep.
Finally, yes, you can save money using my Gleim CMA Review discount and Wiley CMAexcel discount. (Thanks for the love, Waqar!)
Also, if you want more help with the CMA process, you can sign up for my free CMA e-course.
​Get FREE CMA Information!