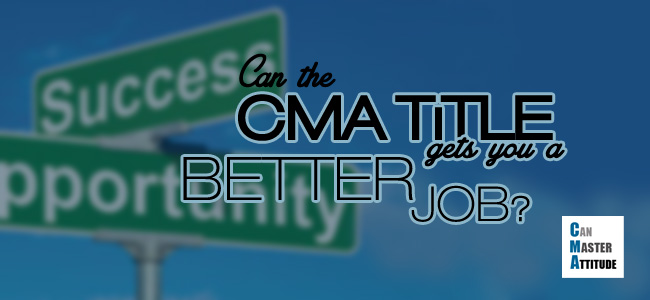 How is a professional certification like the CMA worth it in building your career? When will you see a tangible benefit — right after passing CMA Part 1 and Part 2? Or not until after you get the CMA certification? Many people have these important questions before going into the CMA exam. How do you know if becoming a Certified Management Accountant is right for you?
Many of you have asked similar questions before, and it's time for me to address this with a detailed post. Therefore, let's dive deep into the CMA certification, what it takes to get it, and how it benefits your career growth.
The Background
I have seen coaching classes, especially those from overseas, that oversell the value of the CMA certification in their home countries. They do this to convince people to sign up for those coaching classes. You may see zealous claims like:
"Career prospects shoot out of the roof with this qualification!"
"The title can land you a job right away."
Be wary of these statements. In my opinion, no degree or certification can guarantee a job. Having a certification like the CMA can definitely help you secure a good job or a better-paying job, but it's important to be cautious of big promises.
Don't get me wrong — I fully respect Certified Management Accountants (or else I wouldn't be running this site). But in reality, the value of the CMA varies in different countries and industries. You may have heard about how the CMA will help your career growth, help you get a better job, and make loads of money from it. However, you may be surprised to know that this isn't always the case. There are different factors involved – two big ones being the country and the industry you are in.
Where You Can Get the Most Value from the CMA Certification
Knowing that the CMA value varies by country and industry, how can you know where to get the most value from your certification? The answer could be an integral part of deciding whether or not the CMA certification is right for you. To begin, let's look at the CMA value in the United States. CMA US jobs are available, and the certification is most recognized here.
United States
Given this is a US qualification, the CMA is the most recognized in the United States. CMA USA job opportunities are available all over the country. These job opportunities extend to US subsidiaries outside of the US, but only if they are run by American supervisors who know about the CMA. In other words, if it is a big regional office with a local hiring team, I am not sure if the CMA title is that useful.
Second, you need to consider the industry. The heavy focus on planning, costing, and analysis makes the CMA qualification stand apart from other accounting certifications. These sophisticated costing methodologies are more commonly used and valued by manufacturing companies because they have products and inventories to manage.
In contrast, in a service-oriented company, the analysis is much simpler because no physical product is involved. The skillset gained from the CMA program is still useful; it's only that companies value it less.
Third, you may also want to look into the size of a company. Small and medium-sized companies probably don't need a professional specialized in management accounting and costing. If they have one headcount, I bet they prefer a CPA.
You will find many more opportunities in big companies, especially among the Fortune 500. A sizable number of senior management in strategic planning, accounting, and finance are CMAs. These people want to help their fellow certificate holders and will be much more likely to hire you if they know you are also a CMA.
China
Is the CMA worth it in China? Here's another country where people ask this question. I have received a lot of questions about the CMA in China recently since it has grown more popular. The simple answer is "yes," the CMA could be helpful if you plan to work in China. If this is the career path you wish to take, the CMA certification could be a great choice.
China is probably the next favorable place for those with a CMA title. Since the launch of the Chinese version of the CMA exam, the number of candidates and CMA holders has exploded. And now, the CMA is a well-known certification in China. It also helps that a management accounting qualification doesn't exist locally, so there are no other alternatives. If you aspire to work in China, the CMA title is a good investment.
What types of people in China are getting their CMA certification?
Based on the latest data, an "average" IMA member in China is 33 years old with 10 years of experience in their current field of work. About 54% of Chinese CMA holders are men, and about 46%  are women. Moreover, the percentage of female CMA-holders is much higher in the Middle East and even in the US.
Middle East
The next hot spot for CMA holders is the Middle East. The CIMA certification is also very strong there, so the CMA certification is not as attractive as if you live in the U.S. or in China. Having said that, if you look up online job postings, some companies specifically look for CMA certificate holders in the Middle East, so the potential is there. Many of these companies are big multinational companies with some manufacturing capacities with headquarters in the US.
If you are interested in this type of company, you are good to go. So is the CMA worth it in the Middle East? I'd say yes.
What kind of salary might you be able to secure with a CMA in the Middle East?
An accountant's basic salary in the UAE and Qatar has the highest average compensation at US$56,000 and US$48,000, respectively. Egypt has the lowest at US$6,800. Overall, the basic salary in the Middle East region enjoys strong and steady growth.
Where in the Middle East are the most people registering with the IMA? Among the Middle Eastern countries, UAE, Saudi Arabia, and Egypt have the most IMA members, representing 12%, 7%, and 4% of total survey respondents, respectively, in a recent IMA survey. If you're interested, you can learn more about the CMA in the Middle East to make your final decision.
India
There is also an increasing number of CMA candidates from India. The CMA is an up-and-coming qualification in India, which means you have the first-mover advantage. At the same time, however, this also means opportunities are still quite rare.
Because of this, I recommend Indians do deeper research on the demand for CMA certificate holders in their respective areas.
There are also Indian candidates who go for the CMA because they find the ICWAI (or CIMA) too difficult. While I understand the rationale, you might want to check out the value of the CMA title-specific in your area because getting it easier doesn't mean it is as useful.
Can You Take the CMA in India to get a US Visa?
Lastly, a large group of candidates is taking the CMA exam, hoping to find a job in the US. Some are even told that CMA can immediately land you a visa and a job.
Please don't believe in that nonsense. Most people need an H1B visa to work in the US, which is very hard to get. The most natural and easiest path is to arrange an internal transfer through your current employer. This is only possible if your company has a regional office or headquarters in the US and if you have an excellent track record in the company. You can't land a job out of the blue in another country unless you have an amazingly unique skill set or strong network that leads you to that job.
This goes back to my point of looking for US-headquartered, manufacturing-based Fortune 500 companies in your area. You can learn more about the CMA in India if you are interested.

How the CMA Certification Helps Your Career
Next, let's look at how a CMA certification can help your career growth. First, it is considered the "gold standard" of management accounting in the U.S., and its popularity is spreading globally. This means the CMA is recognized in a business environment as a measurement of your ability in critical accounting and financial management skills.
Secondly, the CMA is the most global management accounting certification. We will touch on this later, but it is the largest in the niche, next to CIMA, and the most available globally. It is also the fastest-growing accounting certification across the globe. You will find CMA certificate holders in the U.S., China, United Arab Emirates, Egypt, Saudi Arabia, India, Jordan, and many other areas (and growing).
Third, you can get a salary increase for holding the CMA certification. Let's face it: the pay increase is the reason most people go for their certification in the first place.
Finally, the obvious but still important way that the CMA certification helps your career is by ensuring you have the knowledge and skill set to do your job correctly and efficiently. In short, it makes you a better worker.
Can I Start Looking for Jobs after Passing Part 1?
Yes, you can always do that, but you cannot hold yourself out as a CMA until you pass Part 1 and Part 2. That is, the benefit of passing Part 1 alone is small. The same applies to passing Part 2 if you haven't fulfilled the experience requirement and become eligible for the certificate.
You can start looking for jobs as soon as you plan to take the CMA exam. In fact, many candidates start looking for CMA jobs to plan for their futures and just to see what is available. However, I advise against actually applying for jobs too early. If you have not taken and passed both CMA Part 1 and CMA Part 2, you cannot call yourself a CMA certificate holder.
Furthermore, you must complete the other requirements by the IMA and receive your certification before claiming the title. Therefore, if you are looking for jobs that require the CMA certification, then you won't be able to apply for these yet.
Should I Look Elsewhere if I Want a Truly Global Accounting Certification?
Is the CMA recognized globally? This is another common question. This may not be your best choice if you are looking for a truly global accounting certification. The CMA is still a US-based certification, despite being available in other countries due to demand.
Historically, it is hard for accounting qualifications (such as CPA and CA) to go global because each country has its own GAAP. A certification strictly for management accounting is possible, and that's why the IMA and CGMA (Chartered Global Management Accountant) are competing aggressively to build upon that.
The CFA Institute has done an excellent job in this regard. They are now pretty much the only certification in finance and investment.
The Institute of Internal Auditors has also established itself as the only player in the internal audit niche.
Therefore, if you aren't only looking for accounting certifications, big global designations exist. You may not even need the CMA at all. Again, this is why it is so important to know your needs and to do your research based on those needs. Just because it seems like everyone is hyping up a certification doesn't mean it is best for you.

Save on the Gleim CMA Premium Package.
20% Gleim CMA Premium Discount
Conclusion
In conclusion, is the CMA worth it? It can be, depending on your career path. It is a highly respected certification for good reason and has many benefits. However, it's also growing globally in popularity, and with that comes a lot of hype. Do not allow the hype to be a reason you get into something that may not be right for you. Always do your background research first and decide for yourself. Don't allow yourself to be pressured by those who may have a personal, vested interest in you signing up.
I hope this honest analysis hasn't scared you from becoming a CMA. There are many benefits to becoming CMA certified. Still, I believe it's important to give people all the information and allow them to make informed decisions about what is best for their lives and careers. It's important that you know your desired career path before diving into the CMA certification since it is a big investment – financially and time-wise.
No one can tell you the right choice for your needs. For your own benefit, please go through these important factors to maximize the CMA certification value for your career.
If you have any questions or stories, please drop a note in the comment section. I'd love to discuss further with you. My goal for this site is to inform and educate on all things CMA-related.
Further Reading:
Read My Bloggers' Stories and See if The Journey is Worth It
If you decide the CMA is for you, you may also be interested in signing up for my mini e-course to plan, study, and pass the CMA exam on your first attempt (click the link for details on the mini-course).