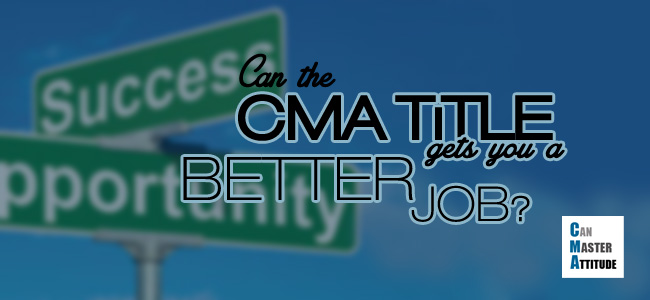 How professional certification such as the CMA worth it in building your career? When will you see a tangible benefit — right after passing Part 1, Part 2… or not until you get the certification?
Many of you have asked similar questions before, and it's time for me to address this with a detailed post.
The Background
I have seen coaching classes, especially those from overseas, that "oversell" the value of CMA certification in their home countries. Career prospects shoot out of the roof with this qualification. The title can land you a job right away.
In my opinion, no degree or certification can guarantee a job.
Don't get me wrong — I fully respect Certified Management Accountants (or else I wouldn't be running this site), but in reality its value varies in different countries and industries.
Where You can Get the Most Value from the CMA Certification
United States
Given this is a US qualification, CMA is the most recognized in the United States. This extends to US subsidiaries outside of the US but only if they are run by American supervisors who know about the CMA. In other words, if it is a big regional office and they have a local hiring team, I am not sure if the CMA title is that useful.
Second, you need to consider the industry. What makes the CMA qualification stand apart from the other accounting certifications is the heavy focus on planning, costing and analysis. This type of more sophisticated costing methodologies is more commonly used and valued by manufacturing companies, because they have products and inventories to take care of.
In contrast, in a service oriented company, the analysis is much simpler because no physical product is involved. The skillset gained from the CMA program is still useful; it's only that companies value less of it.
Third, you may also want to look into the size of a company. Small-medium sized companies probably don't need a professional specialized in management accounting and costing. If they have one headcount, I bet they prefer a CPA.
You will find a lot more opportunities in big companies and especially among the Fortune 500. A sizable number of senior management in strategic planning, accounting and finance are CMAs. These people want to help their fellow certificate holders and will be much more likely to hire you if they know you are also a CMA.
China
China is probably the next favorable place for those with a CMA title. Since the launch of the Chinese version of the CMA exam, the number of candidates and CMA holders has exploded and it has now a well known certification in the country. It also helps that a management accounting qualification doesn't exist locally. If you aspire to work in China, the CMA title is a good investment.
Middle East
The next hot spot is Middle East. CIMA is also very strong there, so it is not as attractive as, say if you live in the US or in China. Having said that, if you look up online job postings, there are companies that specifically look for CMA certificate holders. Many of these are big multi-national companies with some manufacturing capacities with headquarters in the US.
If you are interested in this type of companies, you are good to go.
India
There are also increasing number of candidates from India. The CMA is an up-and-coming qualification in India, which means that you have the first mover advantage. At the same time, however, this also means opportunities are still quite rare.
Because of this, I recommend Indians to do a deeper research on the demand of CMA certificate holders in their respective area.
There are also Indian candidates who go for the CMA because they find ICWAI (or CIMA) too difficult. While I totally understand the rationale, you might want to check out the value of the CMA title specific in your area because getting it easier doesn't mean that it is as useful.
Lastly, there are also a large group of candidates taking the exam in the hope to find a job in the US. Some are even told that CMA can land you a visa and a job right away.
Please don't believe in those nonsense. In order to work in the US, most people need the H1B visa which is very hard to get (It is hard even before Trump became president). The most natural and easiest path is to arrange an internal transfer through your current employer. This is only possible if this company has a regional office or headquarters in the US, and that you have an excellent track record in the company. You can't really land a job out of the blue in another country unless you have an amazingly unique skill set or amazingly strong network that leads you to that job.
This goes back to my point of looking for US-headquartered, manufacturing based fortune 500 companies in your area.
Can I Start Looking for Jobs after Passing Part 1?
Yes, you can always do that, but you cannot hold yourself out as a CMA. This means that the benefit of passing Part 1 alone is small. Same case for Part 2, and any time before you fulfill the experience requirement and become eligible for the certificate.
Should I Look Elsewhere if I want a Truly Global Accounting Certification?
Historically, it is hard for accounting qualifications (such as CPA and CA) to go global, because each country has its own GAAP. A certification strictly for management accounting is possible, and that's why the IMA and CGMA are competing aggressively to build up on that.
The CFA Institute has done an excellent job in this regard. They are now pretty much the only certification in finance and investment.
The Institute of Internal Auditor has also established itself as the only player in the internal audit niche.
Therefore, if you aren't only looking for accounting certification, there are big global designations out there.
Conclusion
I hope this honest analysis hasn't scared you from becoming a CMA. For your own benefit, please go through these important factors to maximize the CMA certification value for your career.
If you have any questions or stories to tell, please drop a note in the comment section. I'd love to discuss further with you.
Read My Bloggers' Stories and See if The Journey is Worth It