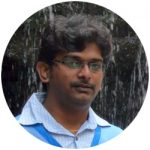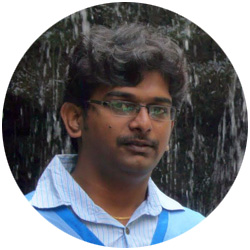 Vinoth has spent his education and working life in India, currently working in a multinational oil company in Chennai. He started taking the CMA exam in 2014, took a break in between due to work and family commitment, and finished off with taking Part 2 in September 2015.
Today, on Nov 12, he shared the great news of passing Part 2. Here is his story:
Vinoth's Inspirational CMA Exam Story from India
1. Nov 26: Introducing Our Wednesday Blogger: Vinoth
In his first post, Vinoth shared why he chose CMA as his professional course.
2. Dec 3: Choosing the Best CMA Study Material and Coaching Institutes 
In this post, Vinoth gave some tips on choosing the best study material and coaching institutes.
3. Dec 10: Coaching and Guidance for CMA Exam Preparation
To be more prepared for the CMA exam, Vinoth explained how coaching classes can be an advantage.
4. Dec 16: Preparing for My CMA Study Plan and Performance Tracking
Vinoth shared some suggestions on preparing your study plan and why it's important to track your progress.
5. Dec 31: CMA Exam Prep Tools and When to Use It
Choosing helpful tools can be difficult. In this post, Vinoth suggested some CMA exam prep tools and when to use it to be more prepared for the exam.
6. Jan 7: Selecting CMA Exam Dates and Allocating Time to Study
Selecting dates on when to take the CMA exam is important. Vinoth explained how he selects CMA exam dates and why it's important to allocate time to study.
7. Jan 14: Here is My Story Before Passing CMA Exam Part 1
Reflecting on his Part 1 experience, Vinoth shared his struggles and why he pulled it off at the end.
8. Jan 21: CMA Multiple Choice Questions Overview
Part of CMA exam are the multiple choice questions, and Vinoth shared how important it is and how he practiced with it during his preparation.
9. Feb 4: How I Approach the CMA Essay Questions
Vinoth discussed the different types of CMA essay questions and how he practiced for it.
10. Feb 17: Slight Setback in CMA Part 2 Preparation
While in preparation for Part 2, Vinoth had difficulty allocating sufficient time for his studies, and how he was able to cope with it.
11. Mar 2: Setting the CMA Exam Date for Part Two
Vinoth started to be back on track, he talked about setting his CMA exam date for part two and why it's important to be full prepared for it.
12. Mar 13: Hock vs Gleim for CMA: a Closer Look into Gleim Online
In this post, Vinoth explained how Gleim is different on their approach and how it can be useful for students.
13. Apr 8: How to Tackle New Topics in CMA Exam (for Me It's Corporate Finance)
Vinoth started covering new topics in the CMA exam what he has learned.
14. Aug 28: Vinoth is Back!
After few months of hiatus, Vinoth was back to study again. He also shared how he handled several issues in his life.
16. Nov 15: Vinoth passed the CMA Part 2 exam and is ready to get his certification!
Stories from Our Other Bloggers
Check out the experience of fellow readers / candidates around the world: