This page is dedicated to the many aspiring CMAs in India who visit my site. Let me walk you through some facts as well as steps and tips on how to achieve your goal of becoming a CMA.
(I also have a page that addresses Indians working in the Middle East.) 
Profile of IMA Members from India
Based on the 2018 IMA Global Salary Survey, Indian IMA members have an average annual total compensation of US $28.8K. The median figures are considerably lower, which means there are a few professionals who earn a lot more and thus pull up the mean figures.
On the whole, Indian IMA members work pretty hard, averaging 45.5 hours per week, which is tied for second-longest with Jordan. Both come in after the United States (46.3). Indian IMA members are also very well educated. All of the 52 Indian respondents have bachelor's degrees, and 63% have advanced degrees.
If we look at IMA members from Asia (mostly from China and, to a lesser extent, India), we see even more interesting statistics.
Among these members, 46% are CMAs (the rest are likely in the process of pursuing the certification). The median age is 34, which is the youngest among all IMA members. A high majority have bachelor's degrees (85%), and about a quarter have advanced degrees (26%).
In terms of management level, 32% in lower management, 46% in middle management, 17% in senior/top management, and 3% in academia. This compares to the 23% in senior/top position among their peers in the United States. This discrepancy can be explained by the fact that Asian members are younger. Also, the establishment of the CMA is more recent in Asia than in the U.S.
CMA vs Non-CMA Salary in Asia
An important finding from the survey is that CMAs in India earn 136% more than non-CMAs. This premium has widened significantly over the years.
Asian CMAs also enjoy the additional benefits of expanded career paths and opportunities. About 90% said the certification had strengthened their ability to move across all areas of business, and 65% said it had increased their career options.
How to Become a CMA in India
Here's some more good news: You can pursue the U.S. CMA certification from India. You don't have to travel or work abroad.
The exam prerequisites are simple: all you need is a bachelor's degree from an accredited college or university as well as 2 years of relevant work experience that you can perform in any part of the world. You can read the CMA exam requirements here.
Exam Content and Format
The CMA exam is computerized and consists of 2 parts, each containing 100 multiple-choice questions and 2 essay scenarios. You will have 4 hours of total testing time for each part. You also have testing appointment flexibility: you can take the exam on any weekday within the testing windows, which cover 6 of the 12 months in each year.
Learn more about the CMA exam syllabus and exam content from my detailed discussion of each.
Testing Center Locations for Aspiring CMA in India
In the past, you could only take the CMA exam at a Prometric testing center. However, the ICMA now allows candidates to take the CMA exam via online remote proctoring from their own home computer.
Still, though, many candidates prefer to take the in-person exam, especially if they don't have a stable internet connection. But candidates living in India have several options. In fact, there are currently 10 test centers throughout India:
Ahmedabad
Allahabad
Bangalore
Chennai
Dhaka
Gurgaon
Hyderabad
Kolkata
Mumbai
Trivandrum
You can visit the Prometric Testing Centers website to locate the exact address of these exam sites.
Furthermore, there are 8 regional IMA chapters in which you can mingle and network with fellow CMAs:
Bangalore
Chennai
Hyderabad
Kochi
Kolkata
Delhi
Mumbai
Pune
CMA Exam Passing Rates
This chart illustrates the latest passing rate data by region: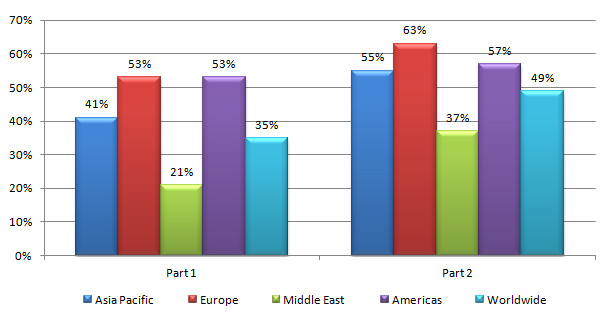 Source: IMA
The specific CMA exam passing statistics for India are unavailable, but as you can see in this chart, Asian candidates have a better than average pass rate. However, it's still not up to the level of the American pass rates. How can we close the gap? Here are my suggestions:
1. Read My Essay Writing Tips
Indians have a very good command of English, but their writing style may be quite different from that of the Americans. Therefore, you should work on how to write essays with the standard use of (U.S.) English. I have written this page on CMA exam essay tips specifically with international candidates in mind.
2. Take Self-Study Review Course Instead
The Problem with local coaching classes
From my own research and feedback from international readers, a very common reason for CMA exam failure in Asia is taking local coaching classes that do not adequately prepare candidates for the exam.
I am sure that there are some excellent live courses out there in this region, but more often than not, these coaching classes are not as good as self-study courses, and more importantly, you can't tell that's the case until it's too late.
The Superiority of Self-study Courses
On the other hand, self-study courses are generally cheaper, more convenient, and more reliable. Self-study courses are used by domestic (U.S.) and international candidates alike. By using the same review courses as the U.S. candidates, you know that the quality of these courses is guaranteed, and you consequently put yourself on a level playing field. Considering that the Americas have a much higher passing rate (50-60%), their courses seem to be working, so I would definitely go with whichever review courses the Americans are using.
Video Summary
Here is a short video clip summarizing this article for easy reference.

Disclaimer: The IMA and the ICAI no longer have a mutual recognition agreement (MRA). Therefore, ICAI members cannot become CMAs without meeting the CMA requirements, and vice versa.
Finally, Some CMA Inspiration for You All
Hari won the prestigious Priscilla S. Payne Award, which was given to the #1 ranked student candidate in the Jan/Feb 2017 window. Read his story and his CMA exam advice here.
Now, How Can I Start The Process?
If you are new to the CMA program, you can learn about:
If you have already started your CMA journey, you can discover: