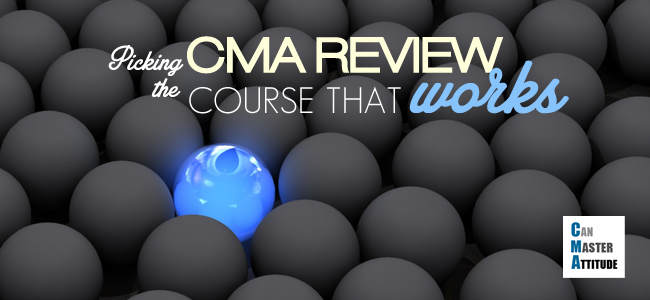 Here is my analysis on the pros and cons of the CMA review courses based on readers' experience and comments from participants in major accounting forums.
Let Me Find the Best CMA Review Course for You!
I don't believe in people who say their study materials are the absolute best, because different courses suit candidates with different background and learning style. I am however confident that you will find one that suit you the best here.
IMA Licensed / Strategic Partner
Video/Audio-Visual
Test Prep Software
 n/a
# Practice Questions
 2,900+
 1,850+
 2,400+
 2,245
 n/a
Performance Tracking
Audio Review
Customer Service
 Personal Counselor +
Online forum
 Technical
support only
Technical
support only
 Online forum
Technical
support only
Free Trial
Samples
Access Time-limit
18 months
or until you pass*
12 or 24 months
n/a (CD format)
Unlimited
12 months
Money-Back Guarantee*
 Re-registration
Guarantee option**
Pricing (2-parts)
$720 (w coupon)
$999 (w coupon)
$695
$720 / $990**
$595
Pricing (single-part)
$405 (w coupon)
$689 (w coupon)
$379
$395 / $540**
n/a
Recommendation
& Analysis
* Conditions apply. Please check with the respective providers for details.
** The higher price includes re-registration guarantee.

Detailed CMA Review Course Comparison
Gleim CMA
Gleim is one of the most popular CMA review courses available and is especially preferred by those who study on their own.
Pros
Very established; one of the earliest providers of CMA review course (as well as for CPA, CIA and EA).
The Gleim CMA Review System offers an integrated learning approach with audio-visual presentation, test prep software in both various modes, audio review, text books, essay wizard and an online study tracking system called Gleim online.
Most comprehensive practice questions with exam mode that closely simulate the real exam you will encounter at the prometric center
The free trial for one study unit and money-back guarantee is very attractive.
One of the most affordable integrated review courses in the market.
Cons
If you have no accounting background, it may be tough to follow (but if you have basic knowledge in accounting e.g. taken one or two introductory classes it should be fine)
Not all audio visual presentations are converted to the new video course format.
Recommendation
If you have some accounting background and are the type of candidates who learn from practice i.e. doing lots of practice questions, I have no doubt that Gleim is the best for you.
Wiley CMAexcel (CMA Learning System)
This is also commonly known as the "IMA study materials" in the CMA community. IMA recently partnered with John Wiley & Sons (publisher of #1 CPA exam review books) to co-brand and promote CMALS and the first Wiley CMA Exam Review was published in November 2012.
Pros
The notes are clear, precise and easy to read.
I feel like the authors really want to teach (versus just want you to pass) through the book, and I actually quite enjoy reading most of the sections.
Cons
This is not a weakness but a common misconception: Note that while this is an official IMA endorsed material, the authors do not have any access to the exam questions and therefore there is no advantage of getting these study materials vs the others.
The practice questions in the test bank are not as complex and comprehensive. I personally prefer tougher practice questions to get me fully prepared for the exam.
It's one of the most expensive options.
Recommendations
The text books are easy to read and are organized. Strictly in terms of learning experience, I actually prefer Wiley to Gleim and Hock (although a few of my readers like Hock better). In terms of test prep software, we all think Gleim give us more comfort to pass the exam.
Exammatrix CMA Review Course
Exammatrix is an accounting test prep developer that prides itself on a unique offering — a software that learns from your answer.
Pros
The "adaptive learning technology" that analyses your weakest areas based on the performance of each study session has a lot of potential.
There is a money-back guarantee as long as you are a "good student" (parameters include how much time you spend on the questions, and % of questions done correctly at the end).
Cons
Most readers comment that the book is not as comprehensive.
Fewer features e.g. no video lecture, audio review and flash cards, although this is somewhat reflected in the lower price.
Conclusion
A good choice for those who know the exam content materials but need to a test prep software for exam preparation. It is also a great choice of supplement if you are looking for additional set of practice questions.
Hock CMA
People may not have heard about Hock outside of CMA review courses but they are quite popular among non-US candidates.
Pros
Great notes that explain the concepts well with classroom recordings.
Cons
Practice questions are good but coverage is not as wide as Gleim's.
One of the more expensive CMA review courses.
Recommendations
If you need more explanations on the concepts behind the topics covered in the CMA exam, but find Wiley too expensive, Hock could be a good alternative. If you need more practice questions, you can get Gleim or Exammatrix as supplement.
Lambers CMA Review Course
Lambers CMA review course have been around for a long time with broad experience providing review courses for CPA, CFA, CMA, CIA and EA. They offer audio course, flashcards and test prep software for both Part 1 and Part 2.
Pros
Lambers' products are "born out of classroom", meaning that the materials are prepared by by professors who are actively teaching i.e. someone who understand the needs of the candidates.
Least expensive.
Cons
The review materials is least expensive for a reason — there aren't much to offer except for the test bank software, which you can get from ExamMatrix (with better adaptive capability) anyway.
Recommendations
If you would like to get a standalone flashcard, Lambers can be a good choice with reasonable price. However, for test prep software or overall package I would recommend Gleim instead.
Rigos CMA Review Course
Rigos offer a CMA review course but it is not a complete program.
Pros
Rigos is a professional test prep review provider with presence in many cities and countries.
Both live classes and self-study courses are available.
Cons
Rigos doesn't get mentioned much among CMA candidates. Typically, a course gets mentioned and promoted by word-of-mouth if it's good.
It runs on a franchise model — in my opinion the quality of the lecturers cannot be guaranteed.
You can get a more detailed evaluation of Rigos CMA Review here.
Other CMA Review Course Providers
There are other smaller-scale CMA review courses. They are likely not the best in my opinion, but I haven't got enough feedback to write a review on them. If you have first-hand experience as a customer, please email me.
My Recommendations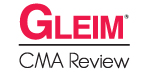 Given that this is mostly a computerized test, the thing that will make or break a review program is the multiple choice questions.
I believe most candidates would agree that Gleim CMA has the best test prep software, free trial, personal counselor support, reasonable pricing… all with the Gleim Guarantee. What do you think? Drop a note on my Gleim's page and we can discuss.
Summary
Reviewer
Review Date
Reviewed Item
CMA review course comparison
Author Rating