One of the most important steps in your CMA exam preparation is to pick the best CMA course. This is actually very subjective as it depends on your own background, learning style and budget, but in order to offer some tangible help, I've done an analysis based on price.
Integrated and Guided CMA Course Materials
This is subject to different interpretation, but my definition of a "full pack" includes study materials beyond the basic test prep software + book combo.
Gleim is the most affordable and offers the best value for money with an integrated product with many features, including video lectures which I find very useful.
1. CMA Single Part (Part 1 or Part 2)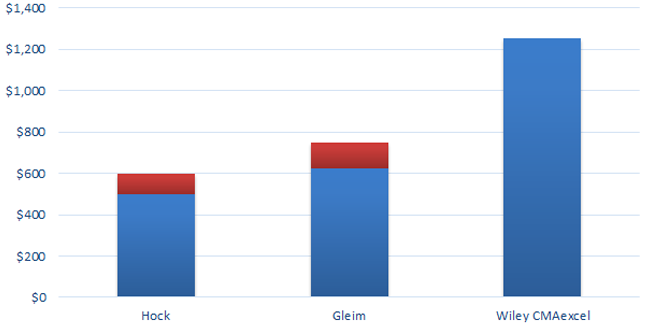 * Pricing of Gleim reflects the 10% discount that you can get from my site.
Gleim Traditional (PDF Textbook + Review Course + Audio Review + Test Bank of Questions and Essays+ Exam Rehearsal): $625
Gleim Premium (Traditional pack+ Video lectures + Personal Counselor + Access Until You Pass Guarantee): $750
Hock (PDF textbook + Exam Success study software + classroom recording video/audio + electronic flashcards + retake guarantee): $574
Wiley CMAexcel (Printed Textbook + Test Bank + Online Intensive Review): $1,200
2. Two Parts Bundle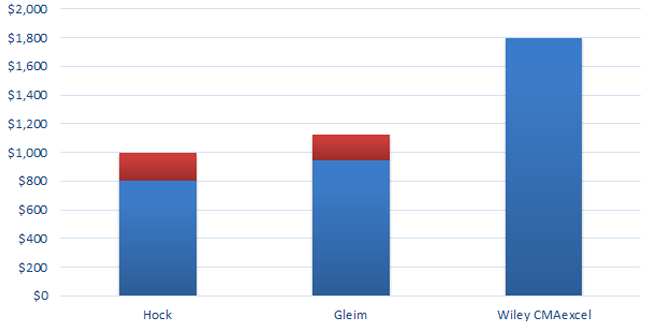 Gleim (Traditional / Premium): $944 / $1,124
Hock: $1,249
Wiley CMAexcel: $1,800
CMA Course for Self Study: Test Prep Software + Book
If you are on a budget, you can consider this combo of CMA courses. You will have to be more disciplined to keep track on your studying, but it does help you save a couple hundreds of dollars.
Rigos offers the cheapest price but if you need any course materials, you will need to get it separately.
1. Single Part (Part 1 or Part 2)
Hock: $299
Surgent: $339
Gleim: $399
Wiley CMA Learning System: $600
2. Two Parts Bundle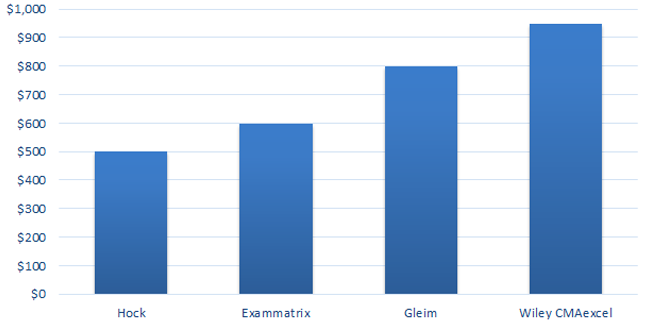 Hock: $574
Surgent: $599
Gleim: $798
Wiley CMA Learning System: $900
Conclusion
Hock is the most affordable among the full courses. In terms of absolute pricing and best value for money, however, Gleim CMA Review stands out in the full course category.
For online test prep, Hock is again the most affordable, but given both the quantity and quality of questions, I would pick either Surgent or Gleim as supplement.
I have another CMA course comparison page that lists factors in addition to price. You can click on the table below, visit the page here, or drop a note below if you have any questions.