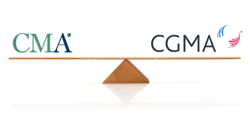 The AICPA and CIMA joined forces in January 2012 to establish the Chartered Global Management Accountant (CGMA) designation.
Now that CMA has a direct competitor, how can we choose between CGMA vs CMA?
CGMA vs CMA: History
The CGMA designation was created only a couple of years ago while CMA has been around for more than 40 years.
Having said that, CGMA is backed by the AICPA and CIMA, the world's largest associations for public accountants and management accountants respectively. In fact, for now at least, CGMA is targeted only to their existing members (and especially US CPAs). Existing members do not have issue as long as the CGMA stays "affiliated" with their associations.
CGMA vs CMA: Eligibility and Requirements
CGMA is restricted to members of AICPA and CIMA only. For AICPA members, they need to demonstrate practical management accounting work with 3 years of relevant experience. The definition looks very broad as it covers management accounting in all types of entities, such as businesses, corporations and government. Internal audit is also included.
For those who had a stint with public accounting, it is good to know that 1 of the 3 required years can be substituted by public accounting (which I assume it means external audit).
CMA is not restricted to members of IMA but anyone can join the institute with a bachelor degree in any field. After passing the CMA exam, candidates need to accumulate two consecutive years of relevant experience. The range is very broad: public / non-public accounting, budget preparation, information system analysis, financial management, management consulting, research and even teaching can be accepted.
For both designations, you can get your experience pre-approved by emailing the administrators.
CGMA vs CMA: Program Structure
Since January 2015, there is a qualifying exam consisting of case studies. You can check out the latest development of this new test here.
CMA has a structured program in which candidates must pass the 2-part CMA exam, covering cost accounting, internal control and financial management. After passing the exam and fulfilling the experience requirements, candidates can obtain the certification.
CGMA vs CMA: Credibility among the Business Community
The CMA certification is fairly successful in the US (and very successful in selected parts of the world, e.g. China). However, its presence dwarfs in comparison to the AICPA and CIMA.
The CGMA designation is promising with strong backups, but much work is needed to build up its reputation. It is understandable that for the first few years, the focus is on building a critical mass of CGMA designation holders, but right now the quality is somewhat compromised by the fact that no effort is required to get this designation before 2015.
In the eyes of an employer, it is hard to respect something that can be bought and not earned. Also, if the employer is a CMA, it is highly unlikely that he would prefer a CGMA vs CMA because the boss has a vested interest to support his own certification. It's as if Harvard alumni will unlikely pick Stanford graduates over those from his alma mater if everything else is equal.
The Ultimate Test
The most practical way to find out is to check out the online job database (e.g. monster.com, indeed.com) and search for positions that require CGMA vs CMA. You can analyze based on the number of jobs, and also the quality, geographic locations, and industries to determine which qualification is more suitable for you at this stage.
My thoughts is that CGMA will gain some traction once the qualifying exam runs for a couple of years, but it will never replace the CMA certification. Whether there is enough demand for two management accounting designations remains to be seen.
Here is a Summary in Video Format
Next Step
| | |
| --- | --- |
| From Our Blogger… | For Your Further Reading |
More Discussions
Your thoughts and comments are most welcome!