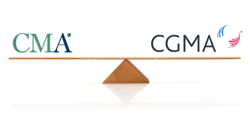 The AICPA and CIMA joined forces in January 2012 to establish the Chartered Global Management Accountant (CGMA) designation. So now, there's a new certification in town. If you're trying to decide if it's right for you, then it only makes sense that you'd compare it to the CMA.
Now that CMA has a direct competitor, how can we choose between CGMA vs CMA? The first step is to get all the facts and see how the two stack up against each other. You and only you can make the final decision about which exam and certification is right for you, but I hope to be able to give you enough information to make that decision by the end of this page.
Are you ready? Alright, let's go!
CGMA vs CMA: History
First, let's take a look at the history of each designation and how long they've been around. The CGMA designation was created only a few years ago while CMA has been around for more than 40 years.
Having said that, CGMA is backed by the AICPA and CIMA, the world's largest associations for public accountants and management accountants respectively. In fact, for now, at least, CGMA is targeted only to their existing members (and especially US CPAs). Existing members do not have an issue as long as the CGMA stays "affiliated" with their associations.
According to the IMA, the certification demonstrates your command of the critical accounting and financial management skills, including:
Financial planning
Analysis
Control
Decision Support
Professional Ethics
So, usually, the designation that has been around the longest would be the most highly respected. In the case of CGMA vs CMA, it's not as clear-cut because while the CGMA is new, it is backed by organizations that have been in the industry since the very beginning. However, the AICPA and CIMA are in the process of creating a new accounting association to support the CGMA designation.
To understand better which is right for you, let's look at the details and requirements of getting each designation.
CGMA vs CMA: Eligibility and Requirements
CGMA is restricted to members of AICPA and CIMA only. For AICPA members, they need to demonstrate practical management accounting work with 3 years of relevant experience. The definition looks very broad as it covers management accounting in all types of entities, such as businesses, corporations, and government. Internal audit is also included.
For those who had a stint with public accounting, it is good to know that 1 of the 3 required years can be substituted by public accounting (which I assume for the means external audit).
CMA is not restricted to members of IMA but anyone can join the institute with a bachelor degree in any field. After passing the CMA exam, candidates need to accumulate two consecutive years of relevant experience. The range is very broad: public / non-public accounting, budget preparation, information system analysis, financial management, management consulting, research and even teaching can be accepted.
For both designations, you can get your experience pre-approved by emailing the administrators.
CGMA vs CMA: Program Structure
Since January 2015, there is a qualifying exam consisting of case studies for the CGMA. You can check out the latest development of this new test here. In the past, you were able to "buy" into this designation. CIMA members would automatically qualify. All you had to do to get the title was fill out a form and pay the fee. While this all changed in 2015, it's very likely that most certificate holders currently were people who got into it with this old policy.
CMA has a structured program in which candidates must pass the 2-part CMA exam, covering cost accounting, internal control, and financial management. After passing the exam and fulfilling the experience requirements, candidates can obtain the certification.
CGMA vs CMA: Syllabus
The CGMA exam tests the areas of strategic and risk management and financial strategy highlighted in the CIMA Professional Qualification Syllabus. The link to the syllabus outline there will show you the CGMA Competency Framework and this is what the exam is built on.
CGMA Syllabus
The knowledge, skills, and behaviors within each area of the CGMA Competency Framework knowledge areas are:
Technical skills
Financial accounting and reporting; cost accounting and management; business planning; management reporting and analysis; corporate finance and treasury management; risk management and internal control; accounting information systems; and tax strategy, planning, and compliance.
Business skills
Strategy; business models; market and regulatory environment; process management; business relations; business ecosystems management; project management; and macroeconomic analysis.
People skills
Influence; negotiation and decision-making, communication; and collaboration and partnering.
Leadership skills
Team building; coaching and mentoring; driving performance; change management; ability to motivate and inspire. Digital skills; information and digital literacy; digital content creation; problem-solving; data strategy and planning; data analytics; and data visualization. These remain underpinned by ethics, integrity, and professionalism.
CMA Syllabus
Candidates for CMA certification must complete all required examination parts.
Part 1: Financial Planning, Performance, and Analytics (4 hours – 100 multiple-choice
questions and two 30-minute essays)
Part 2: Strategic Financial Management (4 hours – 100 multiple-choice questions and two 30-minute
essays)
CMA Exam Syllabus
Part 1

Part 2

Content Areas

Coverage Percentages
Content Areas
Coverage Percentages

A. External Financial Reporting Decisions

15%
A.  Financial Statement Analysis
20%

B. Planning, Budgeting, and Forecasting

20%
B. Corporate Finance
20%

C. Performance Management

20%
C. Decision Analysis

25%

D. Cost Management

15%
D. Risk Management

10%

E. Internal Controls
15%
E. Investment Decisions

10%

F. Technology and Analytics
15%
F. Professional Ethics

15%
How Is the CGMA Different from the CPA?
Nearly everyone is familiar with the CPA exam and designation. How does the CGMA differ from this, which is already a standard in the industry? The main difference is that the CPA has objectively scored formats like the multiple-choice questions (MCQs) and short cases called task-based simulations. The CGMA is one integrated, overarching case. It requires candidates to use long-form responses to only a handful of scenarios. Whereas, the CPA exam has multiple parts and hundreds of questions.
What Makes the CGMA Unique?
If there are already so many accounting certifications, why do we need another one? It's important to take a look at what makes the CGMA unique. First, it is basically a large, strategy case study. It asks candidates to provide strategic analysis of options leading to recommendations, risk analysis, and the formulation of financial strategy. Case study examinations are important to the industry because they require the candidate to combine knowledge and skills across a variety of subjects.
CGMA vs CMA: Credibility among the Business Community
The CMA certification is fairly successful in the US (and very successful in selected parts of the world, e.g. China). However, its presence dwarfs in comparison to the AICPA and CIMA.
In addition, the CGMA designation is promising with strong backups, but much work is needed to build up its reputation. It is understandable that for the first few years, the focus is on building a critical mass of CGMA designation holders, but right now the quality is somewhat compromised by the fact that no effort is required to get this designation before 2015. And many people are still confused about how the CGMA is distinct from CIMA, or what the purpose in having both CGMA and CIMA is.
In the eyes of an employer, it is hard to respect something that can be bought and not earned, which is how people in the industry have looked at CGMA previously. While that is no longer the case (being able to "buy" it), the reputation is still being built.
Also, if the employer is a CMA, it is highly unlikely that he would prefer a CGMA vs CMA because the boss has a vested interest to support his own certification. It's as if Harvard alumni will unlikely pick Stanford graduates over those from his alma mater if everything else is equal. So again, it pays to know your career path and what you intend to do with your certification to help you choose it. Chances are, the CMA is going to be your superior choice. Let's look more into those career options.
CGMA vs CMA: Career Options
What kinds of jobs can you get with a CGMA? Theoretically, you can get any of the jobs you could get with CIMA. This could be any job within financial accounting or management accounting. Whereas, the CMA is focused more on management accounting. However, since CGMA is still new and growing in the industry, it may not yet be as helpful when it comes to getting a new job.
Now, what kinds of jobs can you get with your CMA? Well, the CMA is the gold standard of management accounting. Therefore, any jobs within management accounting are going to be available to you with the CMA certification. Some jobs you can get include:
Finance Manager
Financial Analyst
Financial Risk Manager
Financial Controller
Cost Accountant
Chief Financial Officer
Cost Manager
Relationship Manager
The Ultimate Test for Career Options
The most practical way to find out about jobs and careers is to check out the online job database (e.g. monster.com, indeed.com) and search for positions that require CGMA vs CMA. You can analyze based on the number of jobs, and also the quality, geographic locations, and industries to determine which qualification is more suitable for you at this stage. This can really give you a solid picture of what is currently available to you in your country and region with each designation.
Furthermore, my thoughts are that CGMA will gain some traction once the qualifying exam runs for a couple of years, but it will never replace the CMA certification. The CMA is still the "gold standard" and likely to stay that way. It was here first, and is the most thorough. Whether there is enough demand for two management accounting designations remains to be seen. Right now, the CMA just makes more sense.
Here is a Summary in Video Format
If you'd like to see a summary of the things I've discussed here in this article, check out this quick video:
Now, you should feel much more informed regarding the CGMA vs the CMA. Have you made a decision on which is right for you?
Next Step
Now, if you've made your decision about which designation to get, what's the next step? Here is some further reading to help you. And as always, feel free to ask questions if you can't find your answers here.
In addition, you may also want to check out this info from our blogger, for firsthand experience by someone who has been there and some other links for additional reading on the topic.
| | |
| --- | --- |
| From Our Blogger… | For Your Further Reading |
More Discussions
Your thoughts and comments are most welcome! If you have any questions, concerns or feedback regarding the CGMA vs the CMA, please let us know. I always love hearing from the readers and your questions help me know what to write about next.
Further Reading: