The Institute of Management Accountants (IMA) announced the CMA 2021 exam changes, and if you plan to earn the CMA certification in the next year or so, you need to know about them. To help you know what to expect and determine when you should take the exam, I've explained all the details. Learn everything you need to know about the CMA exam changes now.
CMA Exam Coronavirus COVID-19 Update
I'm carefully watching the COVID-19 status and how it affects CMA candidates. Most of the Prometric testing centers, where the CMA exam is taken, are open. But still, I recommend checking with Prometric on the status of the testing center in your area.
Normal Testing Windows Resume
Additionally, to facilitate the fluid health situation surrounding COVID-19, the IMA previously extended some testing windows in mid-2020. However, the "normal" testing windows have now resumed.
No other CMA windows in 2021 or 2022 have been affected at this time.
Submit Electronic Transcripts for Now
At least on a temporary basis, the ICMA is asking candidates to submit their educational transcripts electronically. As a result, here's what you need to do to verify your education for your exam application:
Obtain a PDF copy of your transcript(s).
Email your PDF transcript copies to the ICMA. Be sure that your IMA membership number is included in the email.
If you live in China, send your transcripts to cmarenzheng@imanet.org.cn.
For all candidates who live outside of China, send your transcripts to aleuc@imanet.org.
More importantly, if you have already submitted your transcripts via regular mail, please email them as well.
Updated Prometric Mask Policy
In response to the pandemic, Prometric is requiring all test-takers to wear a mask the entire time they are at the center. Both cloth face coverings and medical masks are allowable, for instance. However, please do not wear a face mask with an external valve, as they are not allowed. If you show up at the testing center without a mask, you will be marked as a "no show." Plus, you'll have to pay a rescheduling fee to take the exam at a later date.
Check Your Dates
Please make sure to double-check your exam dates. After all, the November 7, 2020, Chinese language exam date was moved to December 6.
Rescheduling Fees Are Back
At the beginning of the pandemic, rescheduling fees were not charged since so many people had to cancel or change their exam plans. However, rescheduling fees resumed on August 1, 2020.
If you need to cancel an exam appointment within 30 days before your date, Prometric will charge you a rescheduling fee. Moreover, if you reschedule within the same testing window, you won't have to pay another exam registration fee.
But the rules change a little if you cancel a Prometric appointment just 72 hours before your scheduled exam time. In that case, when you reschedule, you'll need to re-pay your ICMA exam fees. And you'll need to purchase a new exam registration, too. (So mark that important CMA date on your calendar!)
Need More Info?
To learn more about COVID-19, please visit the CDC or the WHO. Further, you may also wish to consult Prometric's website to find alternative exam dates, if necessary.
I will update this page as I have more information. Please be safe.
Reasons for CMA Exam Changes
Every 5-7 years, the Institute of Certified Management Accountants (ICMA) completes a series of studies to assess the job responsibilities of Certified Management Accountants. In these studies, the ICMA asks CFOs, controllers, and other accounting professionals for their opinions on the knowledge and skills individuals need to succeed in management accounting. With the results of these studies, the ICMA determines whether to update the content of the CMA exam.
The CMA exam 2020 changes are the outcome of a comprehensive job analysis the ICMA recently completed. The ICMA decided that they must adjust the content of the CMA exam so that the exam can continue to be current, relevant, and valid. Therefore, with the information gained from their recent survey, the ICMA will update the exam with several significant changes.
Specifically, these changes will help new CMAs be equipped to perform better in the ever-evolving profession of accounting. With recent advancements such as Artificial Intelligence (AI), robotic process automation, and blockchain significantly altering the industry, today's accountants must be able to operate in an innovative working environment. Therefore, they need a new set of skills, and the new CMA exam version will assess them for these skills. By doing so, the CMA exam will remain applicable to accounting.
2021 CMA Exam Changes
The Small Changes to the CMA Exam Syllabus in 2021

Brian Hock of HOCK CMA has generously outlined the 2021 CMA exam changes in this section.
While it is common for a professional exam to have regular updates to its syllabus, the fact that there are essentially no changes to the CMA Exam syllabus for 2021 shows how well the IMA did in creating the CMA exam syllabus that went into effect in January 2020.
Only three small changes have been made to the CMA exam syllabus for 2021:
Changing the name of Part 1 Section E.2 from "Systems controls and security measures" to "System controls and security measures". (They removed the 's' from the end of Systems.
Adding one line item to Part 1 Section F.2 (Data governance):
"d.   demonstrate an understanding of data preprocessing and the steps to convert data for further analysis, including data consolidation, data cleaning (cleansing), data transformation, and data reduction".
Adding one line item to Part 2 Section F.3 (Ethical considerations for the organization):
"u.   identify and define the three conceptual spheres of sustainability: economic, environmental, and social"
Aside from being a testament to the quality of the CMA exam syllabus, this is also good news for CMA exam candidates because there is no need to worry about exam changes in 2021. At HOCK international, we do have a 2021 edition, but it is simply part of our ongoing commitment to providing the best materials with improvements to improve clarity. We have told our candidates that there is no need to restudy what they have already studied using the 2020 edition, but will want to switch to the 2021 edition for continuing their studies. Because of the fact that the syllabus is mostly unchanged, any new edition that is released by any provider should be largely the same as the 2020 edition.
While there were only very minimal changes to the syllabus so far, I do not expect this to be the case going forward. Because the IMA works hard to keep the syllabus of the CMA Exam relevant to what is needed in the professional world, I expect that there will be some more significant changes in the next couple of years. These may come in the areas of that are related to technology and the use of technology in the profession, as well as any changes to accounting standards that are tested on the Exam. Ethics is also a topic that may have changes or additions because ethics continues to be an important issue for both individuals and organizations.
In summary, if you have already started studying for the CMA Exam, you do not need to worry about these small changes to the syllabus in 2021. And if you have not yet started studying, you can start studying with confidence, knowing that the syllabus for the CMA Exam is a practical, relevant and updated syllabus that reflects the skills and knowledge that you need to be a leading professional in your field.
Dates for the 2020 CMA Exam Changes
The updated English language exam first appeared on January 1, 2020. After that, an updated Chinese language exam came out in April 2020.
2020 CMA Exam Changes Dates
| | | | |
| --- | --- | --- | --- |
| Exam Language | Release of New Exam Version | End of Current Exam Version | Registration for New Exam Version |
| English | January 1, 2020 | September/October 2019 window | After February 16, 2019 |
| Chinese | April 2020 | November 9, 2019 | After November 11, 2019 |
Overview of the 2020 CMA Exam Changes
What Is Changing
The ICMA is modifying the titles and content of both parts of the exam.
The new keyword for Part 1 is technology. The ICMA explains that technology is transforming the profession, so CMAs must be equipped to use it. Therefore, this exam part will receive a new title and a new content section in order to expand its coverage of technology and analytics.
The ICMA wants Part 2 to ensure that accounting and financial professionals have the skills they need to make ethical and strategic decisions in the digital world. For this reason, the ICMA is expanding the Professional Ethics and Decision Analysis sections of Part 2.
2020 CMA Exam Changes
| | | | |
| --- | --- | --- | --- |
| Exam Part | New Title | New Content | Deleted Content |
| Part 1: Financial Reporting, Planning, Performance, and Control | Financial Planning, Performance, and Analytics | Technology and Analytics, Integrated Reporting | Internal Auditing |
| Part 2: Financial Decision Making | Strategic Financial Management | Business Ethics, Sustainability and Social Responsibility | Off-Balance Sheet Financing, Bankruptcy, Tax Implications of Transfer Pricing |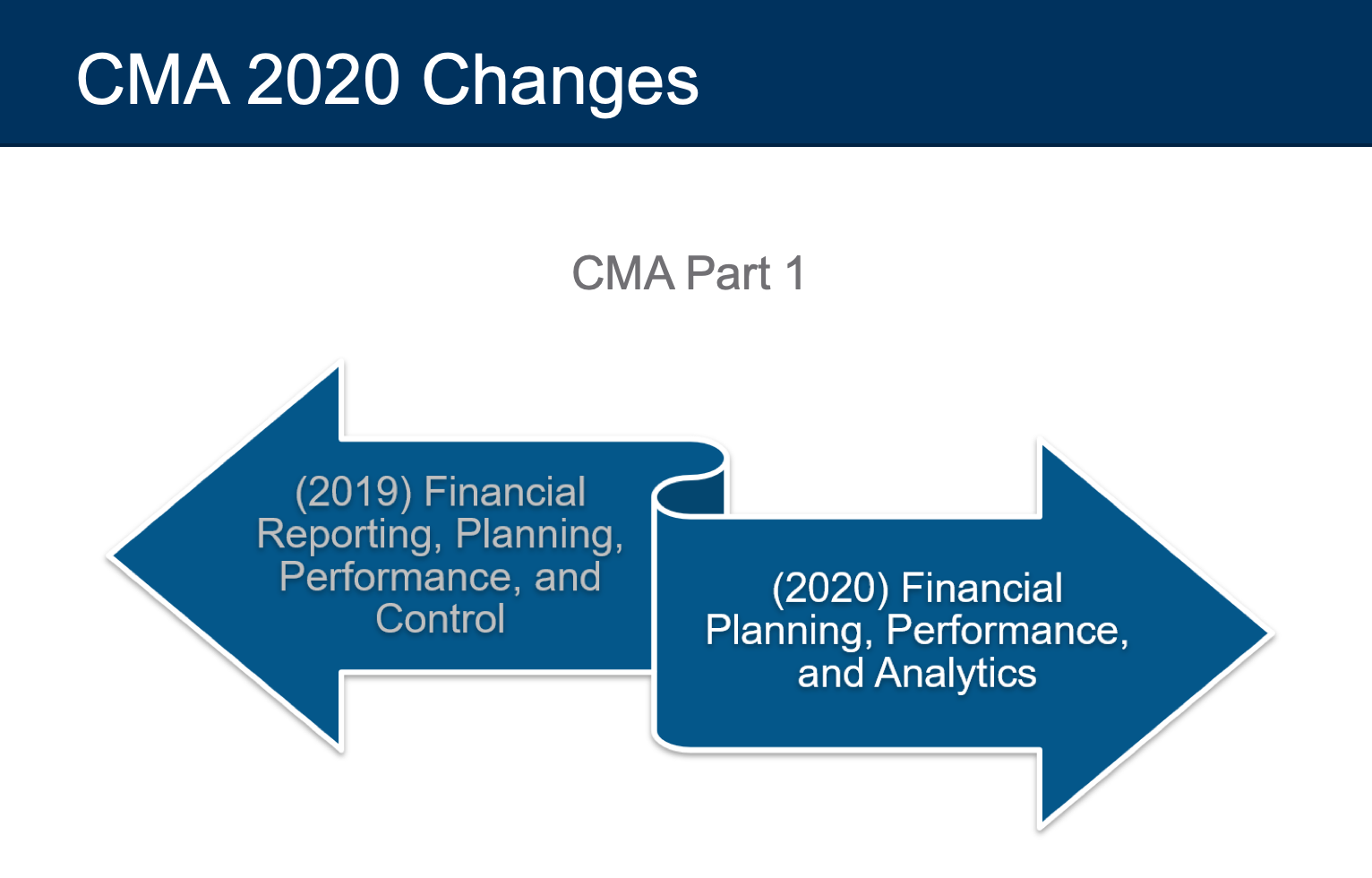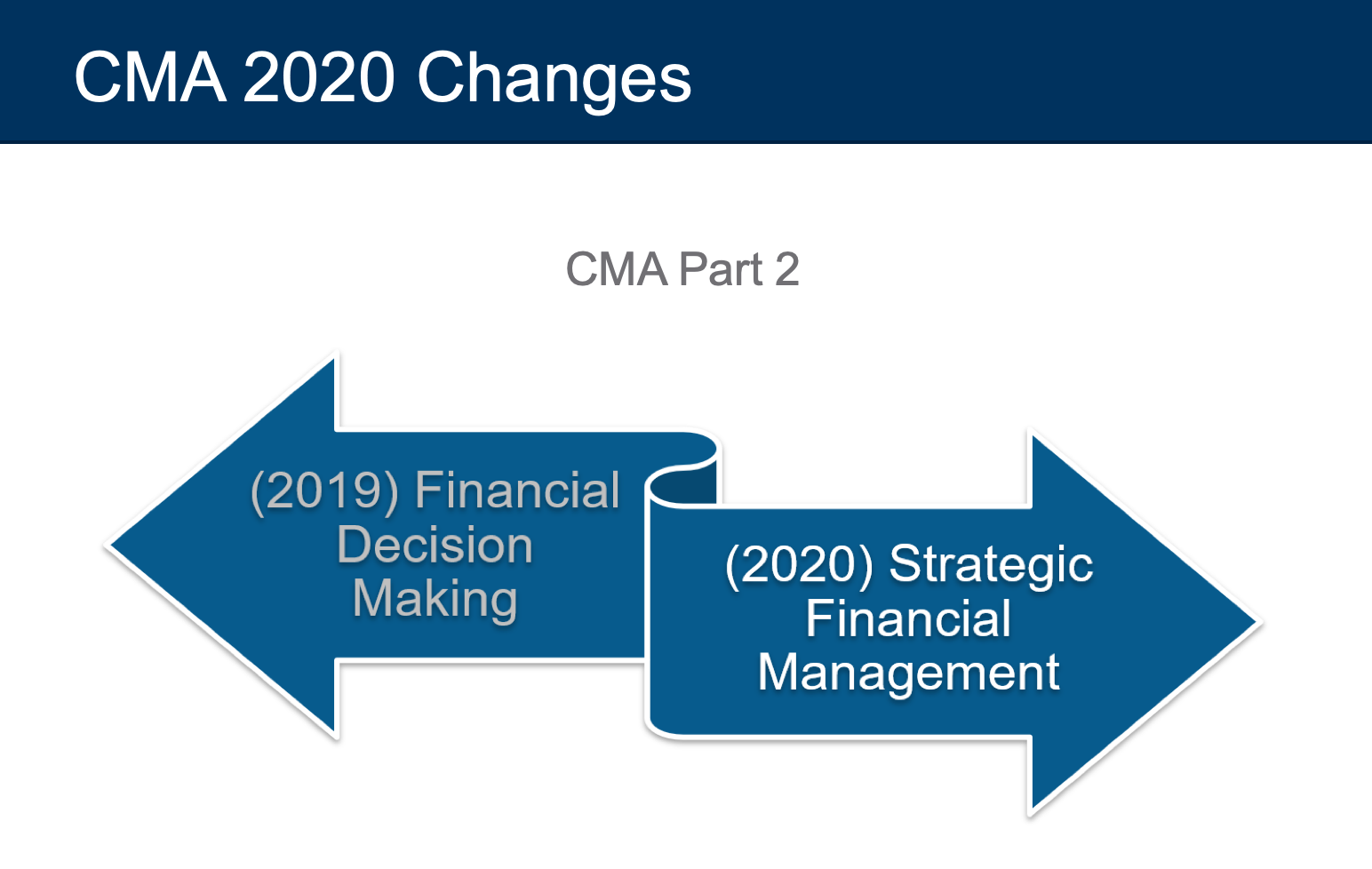 What Is Not Changing
The 2020 CMA exam changes will only affect the content of the exam, not the structure. The changes also do not affect the following:
Exam administration
Eligibility and registration
Testing windows
Number and types of exam questions
Skill level coverage
Total testing time
Exam scoring and passing score
2020 CMA Exam Changes to Exam Content and Structure
In order to add additional content areas to the CMA exam without requiring increased testing time and question counts, the ICMA has altered the coverage percentages of about half the exam's content areas.
The content specification outlines (CSOs) reveal the following changes to the content and structure of each exam part.
CMA Exam Part 1 Content Specification Overview Comparison
Current (2019) CMA Exam Version

New (2020) CMA Exam Version

Content Areas

Coverage Percentages
Content Areas

Coverage Percentages

A. External Financial Reporting Decisions

15%

A. External Financial Reporting Decisions

15%

B. Planning, Budgeting, and Forecasting

30%

B. Planning, Budgeting, and Forecasting

20% (-10%)

C. Performance Management

20%

C. Performance Management

20%

D. Cost Management

20%

D. Cost Management

15% (-5%)

E. Internal Controls

15%

E. Internal Controls

15%

F. Technology and Analytics

15%
CMA Exam Part 2 Content Specification Overview Comparison
Current (2019) CMA Exam Version

New (2020) CMA Exam Version

Content Areas
Coverage Percentages
Content Areas
Coverage Percentages
A. Financial Statement Analysis
25%
A.  Financial Statement Analysis
20% (-5%)
B. Corporate Finance
20%
B. Corporate Finance
20%
C. Decision Analysis
20%
C. Decision Analysis
25% (+5%)
D. Risk Management
10%
D. Risk Management
10%
E. Investment Decisions
15%
E. Investment Decisions
10% (-5%)
F. Professional Ethics
10%
F. Professional Ethics
15% (+5%)
As you can see, Part 1 content area B. Planning, Budgeting, and Forecasting is reduced by 10%, and the coverage percentage of content area D. Cost Management is decreased by 5% to make room for content area F. Technology and Analytics. This section covers the following topics:
Information Systems
Data Governance
Technology-enabled financial transformation
Data analytics
The new content area in Part 1 evens out the number of content areas in each part, giving each 6 for a total of 12.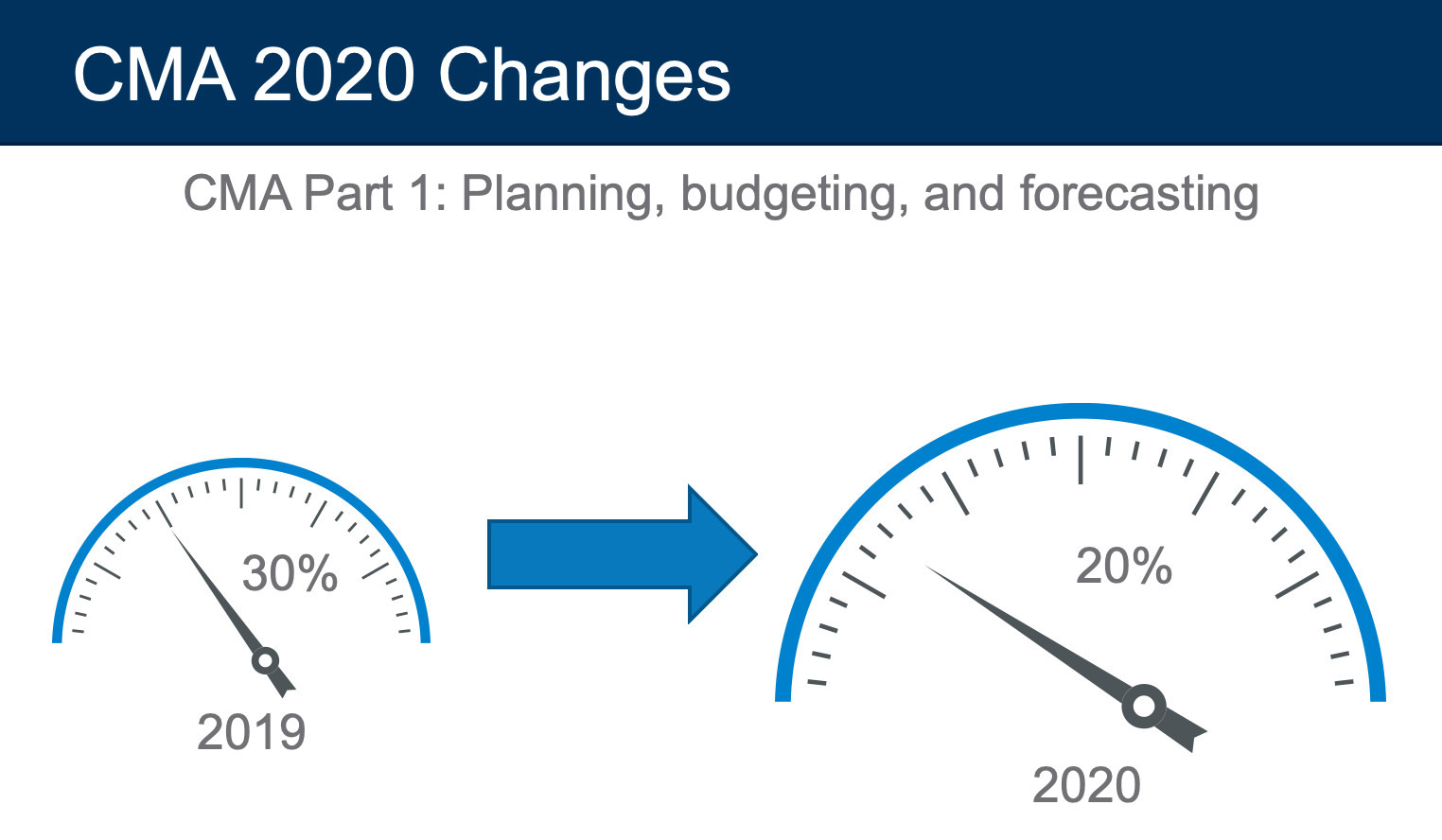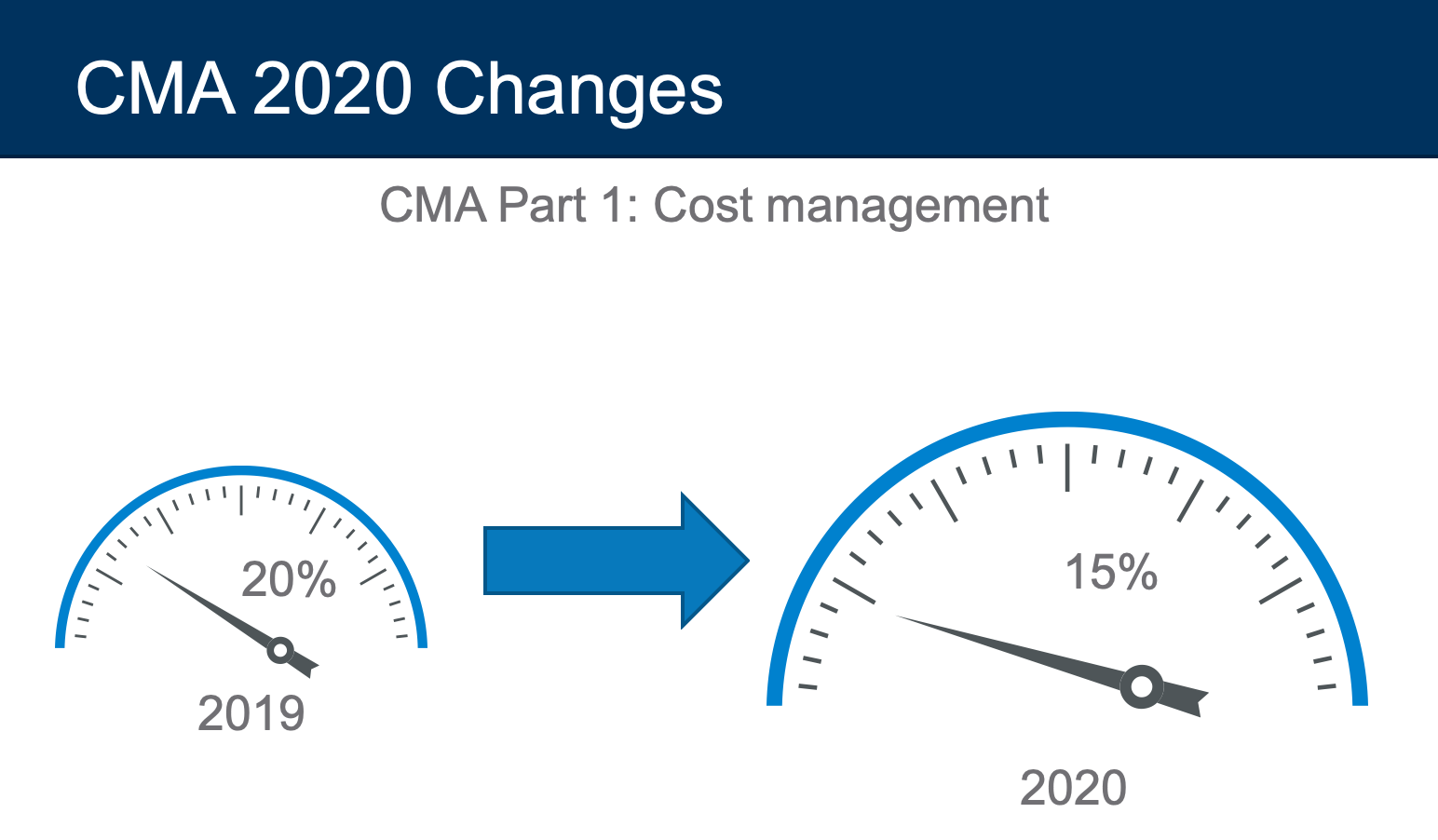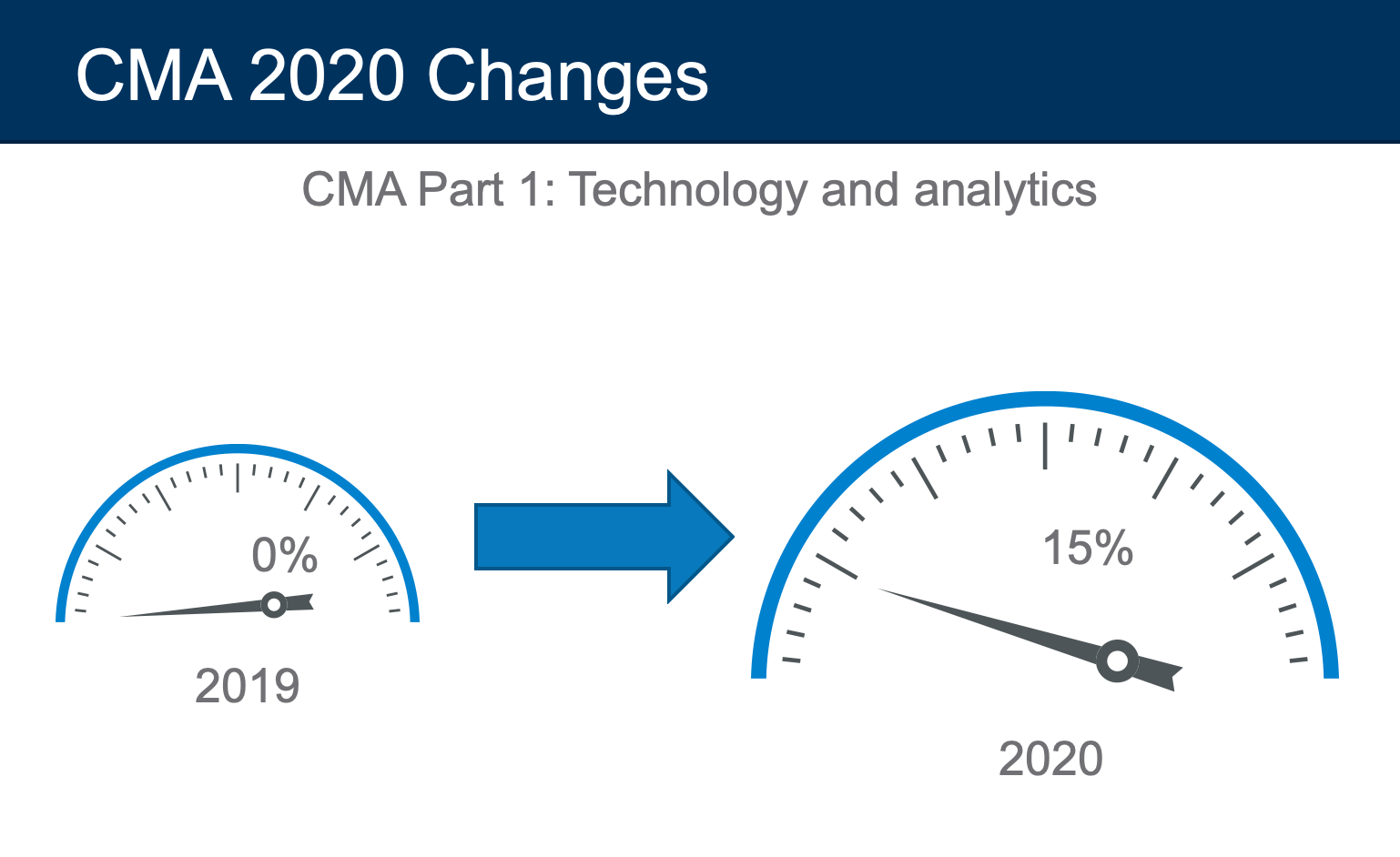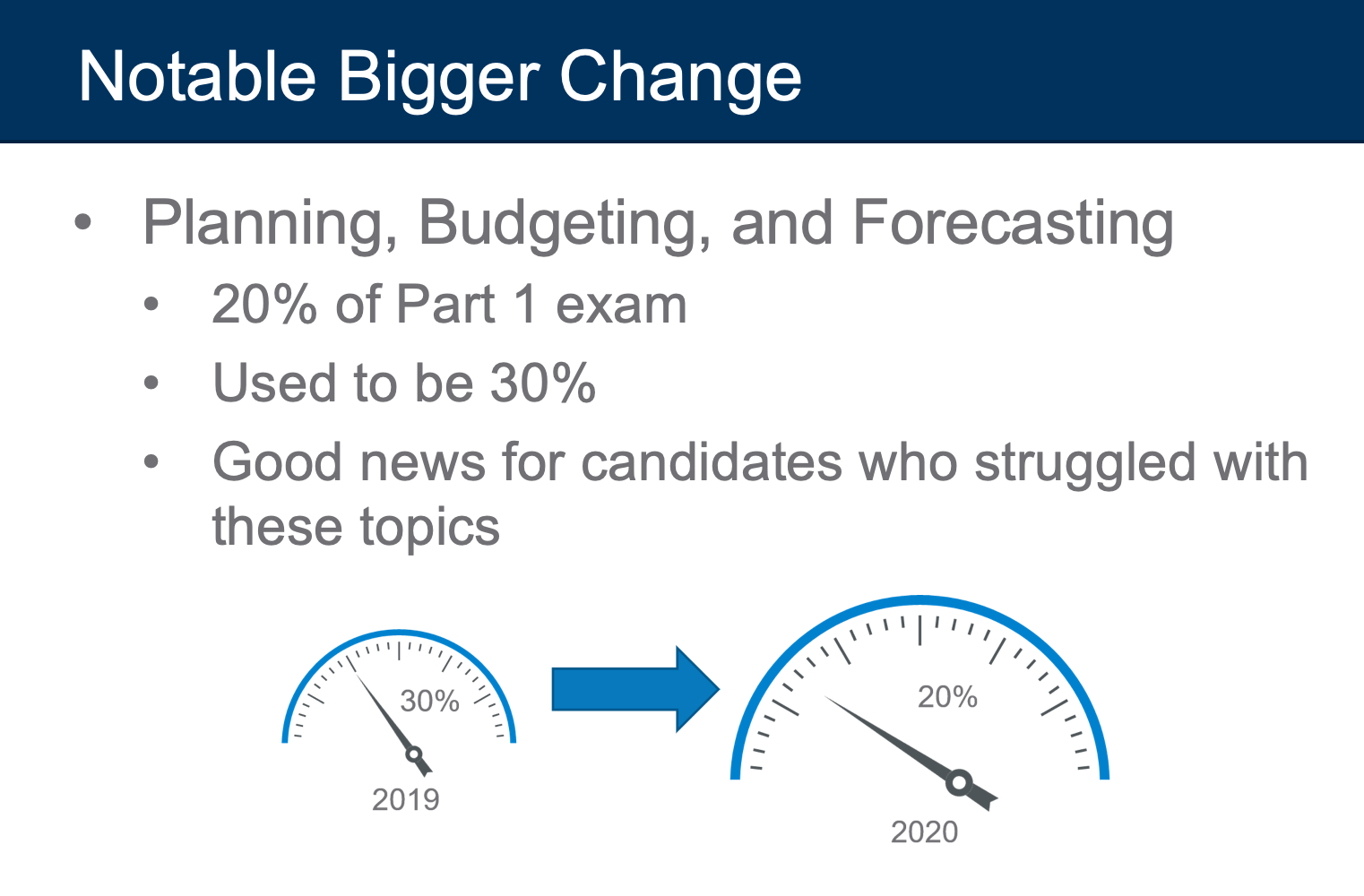 In Part 2, both content area A. Financial Statement Analysis and E. Investment Decisions are lessened by 5% so that content area C. Decision Analysis and F. Professional Ethics can grow by 5%.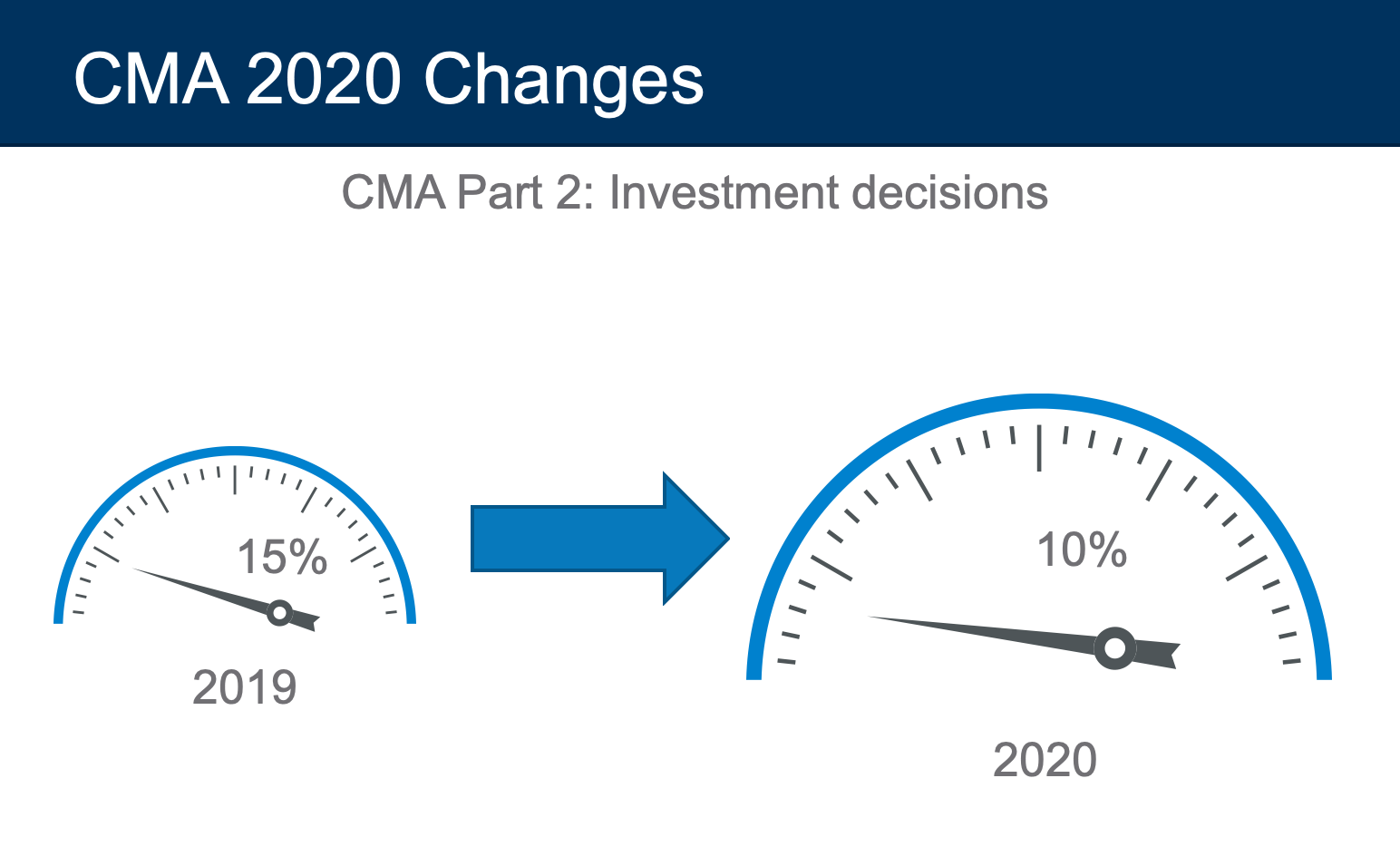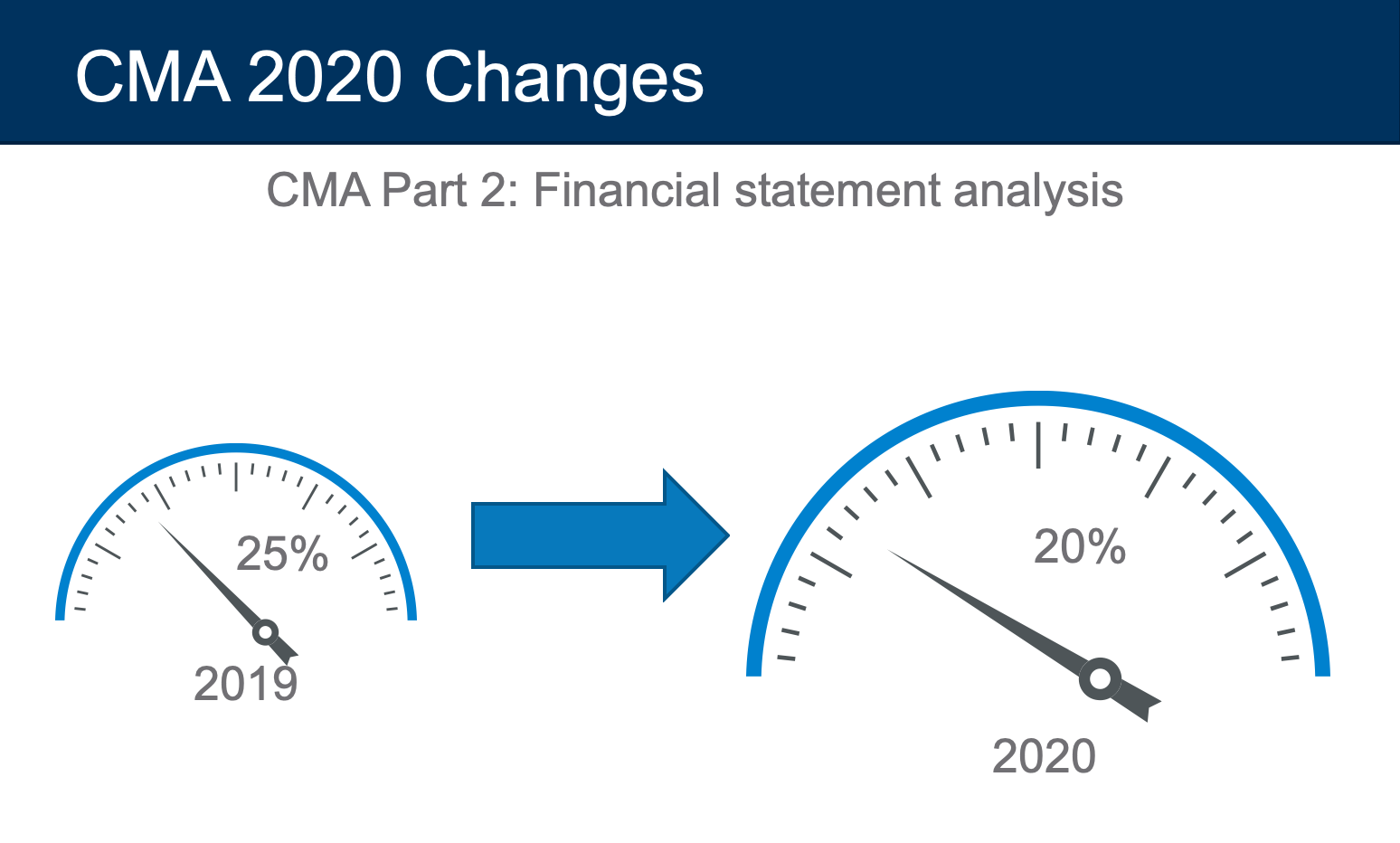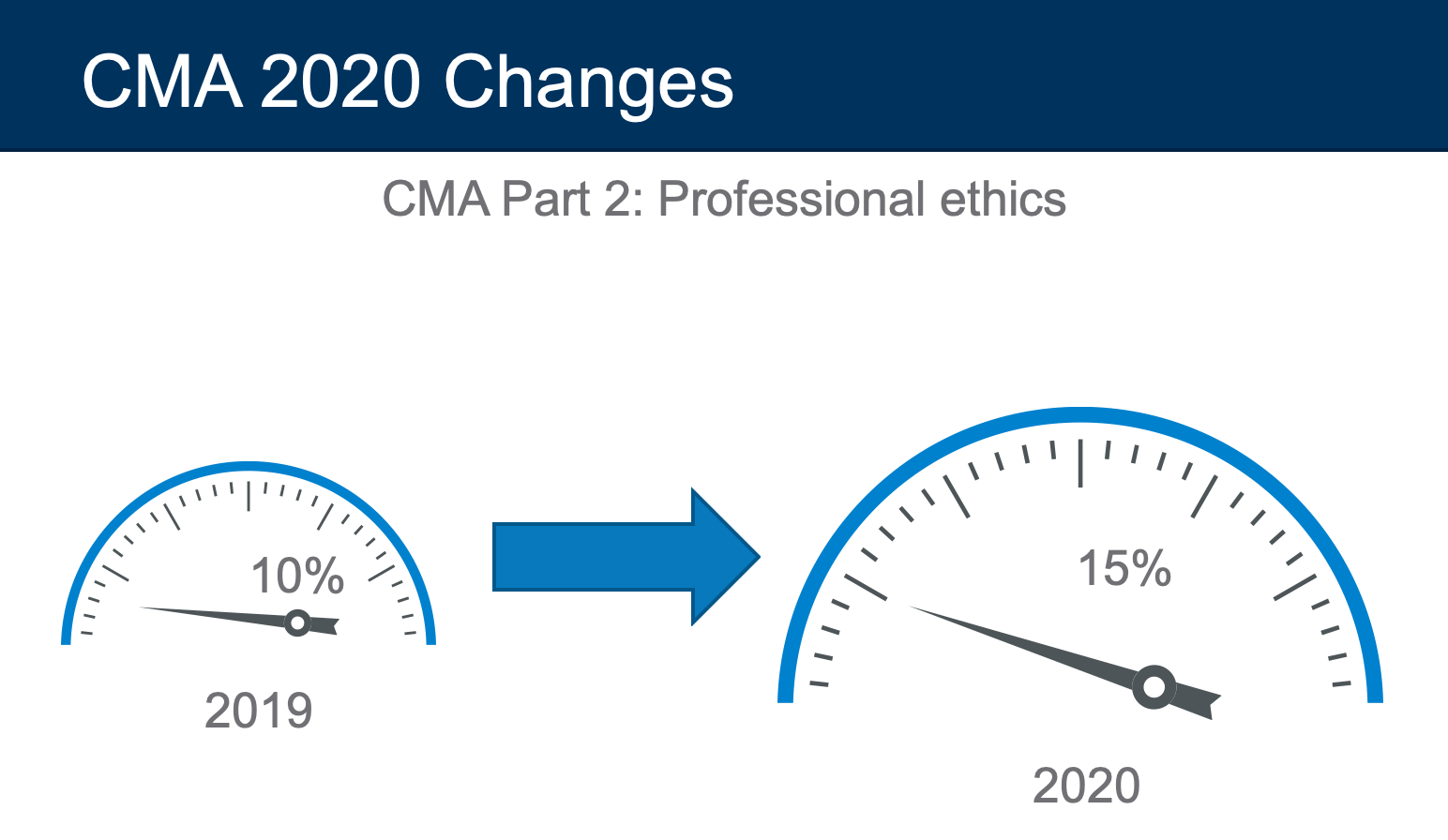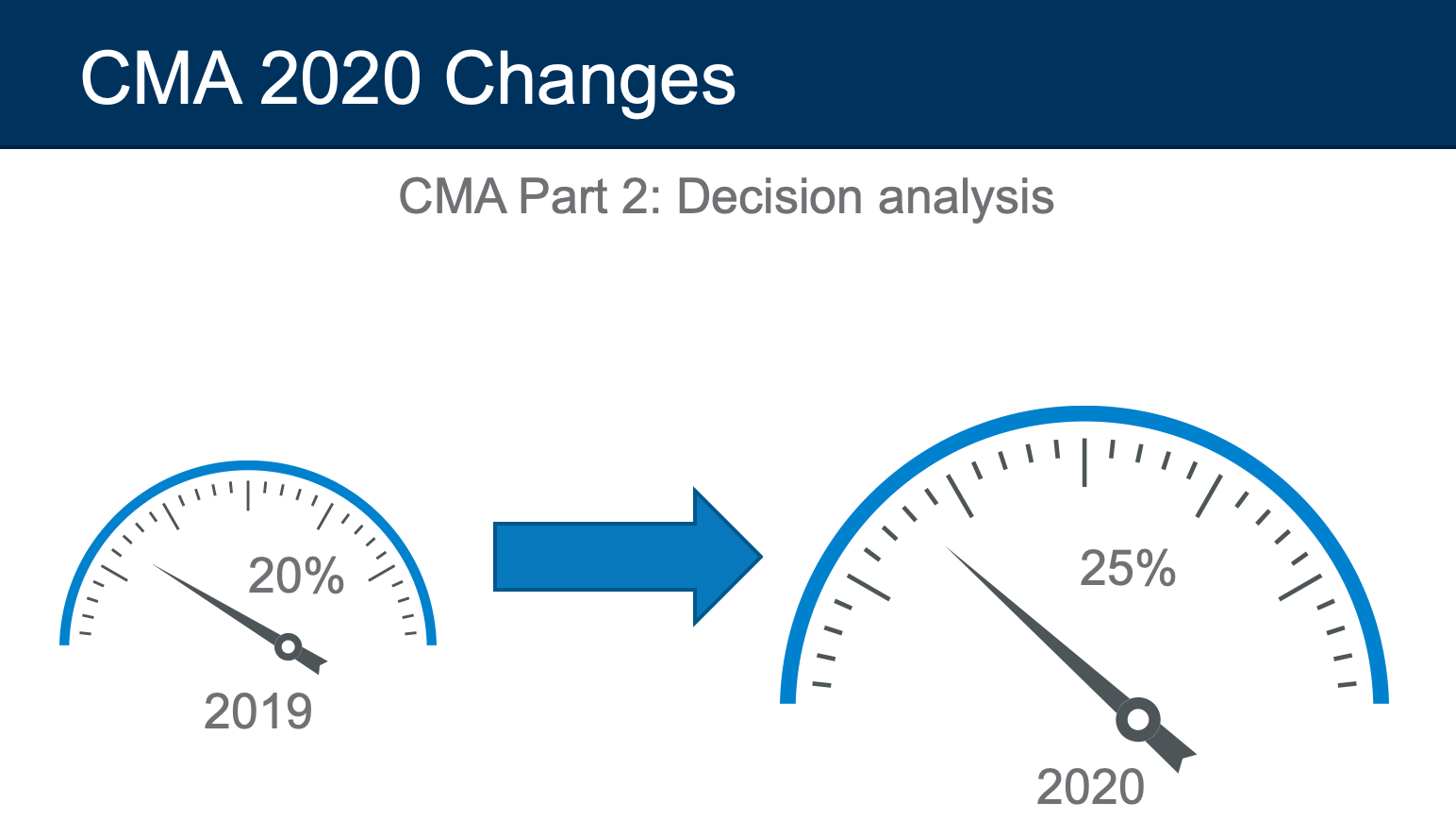 Additional Information about the 2020 CMA Exam Changes
If you finished the CMA exam in 2019, you do not have to worry about the changes coming in 2020. However, if you began the exam in 2019 and are not able to complete it until 2020, you will need to prepare for the changes coming to the exam part(s) you have left to take.
If you need to take one part of the new exam version in 2020, you can combine credit for that part with the credit you received for passing a part of the current exam version, so long as your entrance fee is still valid, and you pass both parts of the exam within 3 years of each other. Credit for exam parts lasts for 3 years, so you don't have to pass both parts in the same version of the exam.
Even after the new exam version arrives, candidates must complete the CMA program within 3 years from the date they paid the CMA entrance fee.
The IMA will also continue to provide the CMA Exam Support Package for the new version of the exam. However, as always, these materials on their own are not enough to prepare you for the exam. Therefore, you should still purchase CMA exam prep for your review. All the most popular CMA review providers will update their courses for the new exam version, so you can get all the help you need to pass.
FAQ: Can I Use My 2019 CMA Exam (Or Earlier) Study Materials?
Whether you use old materials to prepare for the new exam depends on your level of risk tolerance. Personally, no, I would not take this risk because the old materials will completely omit ALL the new exam content and will discuss content that the exam no longer covers. So, basically, your old materials won't tell you what you need to know. Let's take a look at Part 1 as an example.
If you use materials that were published for a pre-2020 exam, you'll miss out on 15% of the new content, which equates to 52 syllabus items. You'd also end up studying internal auditing concepts, which the exam will no longer test you on. Additionally, you'll miss out on studying for integrated reporting, which equates to 5 syllabus items. What's more, you'll also study off-balance sheet financing, and again, the exam will not test you on this. Finally, you'll also be studying old information on leases. The 2020 exam requires you to know about ASU 2016-02, which changes the classification of leases.
So, failing to study for 57 syllabus items and ASU 2016-02 is too risky. And, of course, you'll also waste precious time studying content that the exam no longer addresses! For these reasons, I think you should do your best to make sure you have updated materials for the 2020 exam. If you are even contemplating using materials from 2019 or earlier to prepare for the 2020 exam, please email me at stephanie@ipassthecmaexam.com so I can figure out how to best help you.
The changes to Part 2 aren't as drastic, but this part does have several new syllabus items. And the 2020 exam syllabus also removes a good amount of previously tested content. Specifically, the new content the ICMA added to the updated syllabus includes business ethics, sustainability, and social responsibility. And the new syllabus removes off-balance sheet financing, bankruptcy, and tax implications of transfer financing. The removed topics represent at least 6 syllabus items. Therefore, studying for Part 2 with old materials also positions you to waste valuable time studying irrelevant information. What's worse, you'll completely miss out on studying the new syllabus items. So, while the risk of using old materials to study for Part 2 isn't as big as for Part 1, I still don't recommend doing it.
Preparing for the 2020 CMA Exam Changes
So, how will the upcoming CMA exam changes affect you?
If you have already begun the process of becoming a CMA, you could try to finish before the changes come so you don't have to worry about them at all. Candidates who have already passed one part in 2019 had plenty of time to pass the other part before 2020, so avoiding the changes was absolutely doable.
The IMA recommends 150 hours of CMA exam study time for each part. So, by studying for only 15 hours a week, you can finish your studies for 1 part in 10 weeks (just under 3 months).
And even if you waited until the last testing month of the year to take your final exam part (October), you still wouldn't have to start studying until August. Therefore, candidates who started the exam in 2019 still had enough time to pass both parts before the new version launches.
However, candidates who didn't start the exam in 2019 still have nothing to fear. You will have to take the new exam version, but there will be CMA exam prep to guide you, of course. And, you will be gaining all the knowledge and skills you need to succeed as a CMA based on the ICMA's survey results.
Benefiting from Access Until You Pass
The coming CMA exam changes make the access length of your CMA review course one of the most important features. Specifically, your course access length can save you a lot of money and spare you a lot of stress if it is until you pass.
Using a course with access until you pass enables you to receive free content updates for as long as you're studying even if the exam changes. So, if you purchase a course with access until you pass now and don't finish the CMA exam until after the 2020 changes arrive, you won't have to pay for new study materials because your review provider will automatically update your course for free. Consequently, you'll get 2 courses for the price of 1!
Such unlimited access also prevents you from having to pay to renew your course access if you can't finish the exam as quickly as you wanted to. In the event that you passed a CMA exam part in 2019 and can't pass the other part until 2020 or later, having access until you pass will mean that you don't have to cover a fee for more course access. On the other hand, you may have to pay again if you bought a course with just 12 or 24 months of access.
So, as you can see, getting access until you pass with your CMA review course should be one of your biggest priorities at a time when the CMA exam is about to change.
Interview with Brian Hock Discussing the 2020 CMA Exam Changes

I'd like to thank Brian at Hock International CMA for providing me with his insight regarding the upcoming CMA exam changes. He's thoughtfully answered all of my questions so that you can have even more helpful information about the new version of the CMA exam!
Q: The ICMA changes were made to the 2020 CMA exam syllabus to meet the growing needs of employers and the expanding roles of accountants. What value do you believe the changes to the CMA exam syllabus will add to both employers and accountants/CMA candidates?
One of the main benefits for candidates of gaining a professional certification is recognition of that certification in the market. By changing the content of the exam to more closely reflect the work that is needed in the accounting and finance professions, the IMA has ensured that the CMA Exam will remain relevant going forward. For employers, this continues to show that the CMA Exam is a valued qualification and they know that it can continue to be part of the long term strategy for staffing their accounting and finance teams.
Q: Do you believe the material being added to the CMA exam is complex and challenging and could cause pass rates to decline?
It is certainly challenging, like it should be. But, it should not cause pass rates to go down. Because the IMA provides a detailed syllabus candidates and material providers know what the new coverage includes (and, perhaps just as importantly, does not include). The content that has been added is probably at about the overall difficulty level of the existing content, so I do not think that it will change the pass rates. In fact, candidates who have more experience in the content that was added, may find the exam a bit easier because of the newly added content.
Q: What is your advice for candidates wanting to use materials that were purchased for the previous exam version (assuming they do not have access to the updates because their course did not include them)?
If a candidate has materials for the 2019 exam, but does not have access to free updates to the 2020 materials from their provider, there are a couple of options. The first is to buy

2020 materials

(and if your current provider does not provide free access to their 2020 materials, I would suggest looking for another provider). You may not need to purchase the full set of materials, but I would at least purchase a Textbook so that you have access to the content that has been added. The second option is to try to study the materials from freely available sources. The IMA provides a reading list for the exams, so you could try to get access to those books (but some of them need to be purchased). This would not be a very efficient option as a CMA Textbook will have filtered out the things that are not on the CMA Exam. I would recommend that you purchase 2020 materials from a provider to keep your studies focused. And if you need to purchase 2020 materials after purchasing 2019 materials, explain your situation and ask for a discount. I know that we would give one in that situation.
Q: When will Hock CMA's materials be updated for the 2020 exam? And are those updates free? Do candidates need to do anything to request these updates?
Yes, our materials are updated for 2020. As I am writing this, there are only a few videos that need to be completed. For candidates who purchased HOCK in the past, you have free access to the 2020 materials. If you bought the materials planning to take the exams in 2019, but were not able to, you have free access to the materials you purchased for the 2020 exam. The 2020 materials are all in our My Studies page and they are there for you to access, you do not need to ask for access – you already have it.
Q: Should candidates wait to take the exam after the first window of 2020 in order to let the dust settle?
There is no need to wait! Candidates should take the exam as soon as possible. The best time to start preparing for the exam was a year ago. The next best time to start preparing is today! We know what is covered in the new content so  we are able to develop material that covers the new content. If you have decided to become a CMA there is no need at all to wait because of the syllabus change. Also, remember that the new content is not a very large percentage of the content. So, to delay starting over fear of the new syllabus is unnecessarily delaying getting the benefits that you will get from passing. So, do not delay, start today!
If you still have questions about the 2020 CMA exam, please leave a comment on this article so that I can help! And if you have a Hock-specific question, feel free to ask your question below as well. In this case, I'll ask Brian to respond or I'll forward you his response.
Help with Passing the CMA Exam
If you'd like to pass the exam before the changes come, use my CMA review discounts to save on your study materials. And learn how to pass the CMA exam on your first attempt with my free CMA course. You can sign up for it below!
​Get Free CMA Information!