There are many reasons why you may consider rescheduling your CMA exam. It could be extra personal and work commitment, sudden emergencies or simply taking than what you anticipated in preparing for the exam.
Good news: CMA exam reschedule and cancellation is allowed and can be easily done.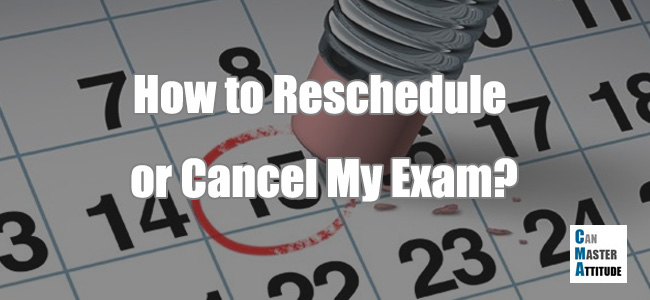 When Should I Consider Rescheduling?
If you are falling behind your study plan and feel like it is impossible to make it up, it is time to make the decision.
It is best to decide 1 month before the exam to avoid penalty charges (see below).
CMA Exam Reschedule Procedure
If you decide early to reschedule, there is no penalty. Simply call Prometric at (800) 479-6370 (Monday through Saturday), or change your appointment online at Prometric's website.
If you need to reschedule within 30 days, the process is the same but you have to pay $50 administration fee. All exam appointments must be scheduled at least 72 hours in advance of the exam date.
Cancellation is essentially the same as rescheduling. Cancellation follows the same procedure, and can also be done at least 72 hours in advance of the exam. Otherwise, it will be considered a "no-show".
Can I Extend the Test Date to Next Testing Window?
Unfortunately this is not allowed.
How about Exam Retake?
An exam part may be taken only once in a testing window (e.g., Part 1 may be taken only once within the January/February testing window). All exam retakes require a new registration, along with payment of appropriate fees.
For More Information