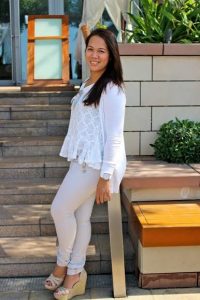 Joan is our blogger who took the CMA exam with a full time job, family and a young daughter.
 Even though she failed Part 1 on her first attempt, she didn't lose hope. She retook and passed Part 1, and swiftly passed Part 2 afterwards.
Joan's CMA Exam Journey
1. July 18: Please Welcome Joan, Our Latest CMA Exam Blogger
In this introductory post, Joan talks about how she re-evaluated her career path and finally decided to go for CMA qualification, in order for her to compete and stand out from the other candidates.
2. Aug 10: Why I think I was Destined to Fail CMA Part 1
Joan analyzes why she failed Part 1, on possible reasons why that happened. One major reason is procrastination, which is among the most common reasons for busy professionals. Check out her other reasons here.
3. Aug 25: Dealing with My CMA Failure
In this post she shares her feelings and emotions when she got the IMA email, and realized she didn't make it. She then talks about how she was able to cope with such failure.
4. Sep 11: CMA for Working Mom: How Joan Juggles between Work, Family & Study
Joan tells us how she was juggling between work, family and study. She knew that many aspiring CMAs share the same experience.
5. Sep 19: CMA for Working Moms (Part 2): What Works for Joan?
In this post, she shares her effective ways to study as a working mom. How she was able to manage to study and what works for her.
6. Oct 29: My CMA Exam Part 2 Preparation: Sharing from Joan
Joan shares her mental experience while preparing and taking Part 2 of the exam. She went through a lot but she decided to go for it.
7. Jan 31 : Submission of CMA Certification Documents
Joan passed the exam! It was such a relief and joy after all the hard work and what she has been through. She gave ideas and tips on all the requirements of IMA in order to finally obtain the certification.
Stories from Our Other Bloggers
Check out the experience of fellow readers / candidates around the world!