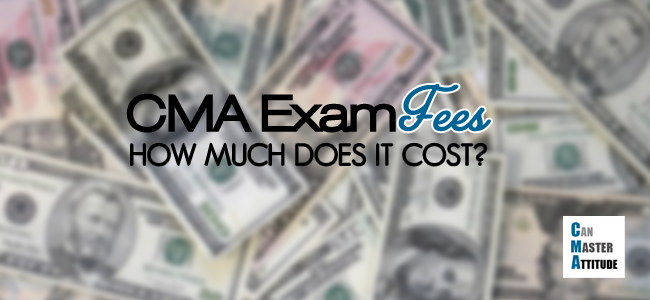 Taking the CMA Exam and getting the certification can be a big investment! Let's look at how much CMA exam fees you should expect to pour in for this big project.
All amount in US dollars.
Quick Walkthrough on CMA Exam Fees in Video Format
Here is my response on readers' requests to walk you through the different layers of fee. I hope the following video will serve the purpose.
Here is the text format for those who prefer to read and digest the information in writing.
In order to start the CMA journey, you need to go through 3 levels of payment:
1. IMA Membership
The IMA membership is an annual fee ranging from $75 to $225 depending whether you are a student, a young professional or a standard member.
2. Entrance Fee
The entrance fee is an one-off fee that allows you to take part in the CMA program which is the route to become a CMA in the US. The fee ranges from $75 to $240.
3. Examination Fee
After the price increase in July 2014, the registration fee of the exam is now $395 per part, which means you'll have to pay $790 altogether.
There is also a discount of student candidates at $296.25 per part. A member can enjoy the student discount for up to 6 years.
Cost Summary
Here is an extract from my video for your reference: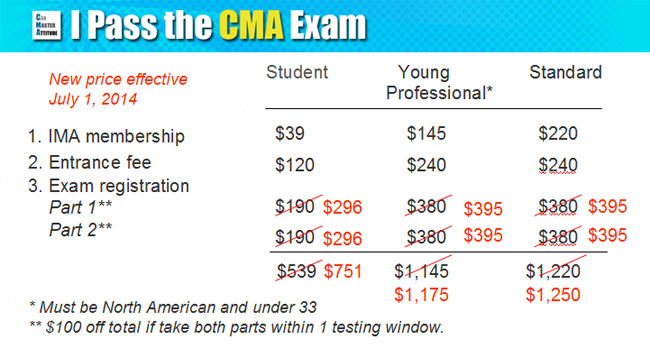 Note: the $100 off for taking both parts within the same testing window is currently not available. Source: IMA
Extra Costs
1. CMA Review Courses
The study materials do not come with the CMA program. Candidates prepare the exam based on free second-hand notes to expensive coaching classes from their home countries. I generally recommend something in between — self-study review courses, which offers one of the best products from nationally renowned instructors, flexibility of studying at home and generally lower price.
2. Travel and Accommodation
If you are lucky to have the testing center close to your home, this cost is minimal. But there are candidates who need to travel far to a nearby city, or even to another country for the exam. If you are in this situation, remember to take this cost into account.
3. Annual Payment
Please note that the IMA membership is mandatory and therefore the membership fee is an annual payment.
Is the CMA Worth It Then?
The CMA exam fees is expensive anyway you look at it, but first, it is more affordable than other qualifications such as the CPA exam; and second, if you are pursuing a professional career in accounting and financial management, the certification is going to benefit you for a life time.
For Your Further Reading
Can I Be More Helpful?
To learn about how to study and pass the CMA exam in the most efficient manner, check out my e-course which is completely free. You can  learn about the e-course here or sign up directly below.
Join us if you want to get tips on how to plan,
study and pass your CMA exam… on your first attempt!