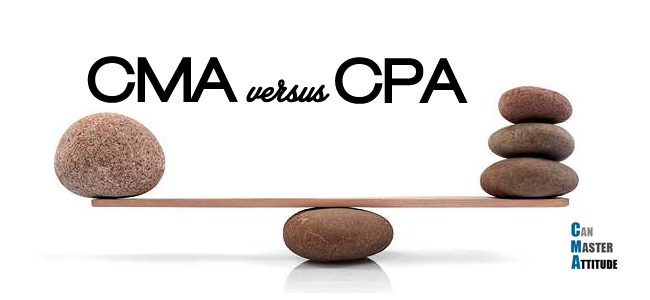 CMA vs CPA has been a never-ending debate among the accountants.
Let's see what their supporters say!
CMA vs CPA: Pro CPA Camp
1.  More Established and More Recognized
The CPA qualification dated back in the early 20th century and is without a doubt the most established qualification among the accountant industry. Because of this and other reasons, the CPA title is more recognized in the US and in other parts of the world.
2. Higher Entry Barrier
The AICPA and NASBA have been pushing for a more or less "uniform" CPA prerequisite in all states — the so-called "3E" requirements ask for 150 credit hours with concentration in accounting, together with 1-2 years of experience verified by an active CPA licensee. The entry barrier is so high that becoming a CPA is a prestige that not everyone can get, which in turn makes the qualification very valuable.
3. Good for All Types of Accounting Jobs
CPA is widely recognized and you get the perks no matter where you work in the finance and accounting field, be it public or non-public accounting. On the other hand, CMA is only useful for those to work and stay in the corporate world.

CMA vs CPA: Pro CMA Camp
1. More Practical
In reality, most accountants (whether starting as public accountant or not) will end up in the corporate sector. This means that the management accountant skill is in fact more practical in medium to long term for professionals in the accounting industry. In fact, many candidates who went through both CPA and CMA find the materials covered in CMA more interesting and useful for their daily business life while CPA materials are too theoretical.
2. It's Cheaper and Less Time Consuming
Both exam costs a fortune, but the CMA certification is considerably less. Also, with only 2 parts (vs 4 parts in CPA) it takes less time to study and get passed.
3. You Can Take the Exam Before Graduation
If you want to get a fast track, CMA allows you to take the exam before you graduate, although you will have to complete your bachelor degree with 2 years of experience to ultimately get the certification.
4. Better Administration Body
As you may know, the CPA license is granted by each of the states instead of by a national body. This legacy issue has created a lot of confusion and challenges from getting qualified for the CPA exam to apply for the license at the end. On the other hand, CMA is administrated by IMA with a well-run website and clear instructions on how to prepare, study and pass the CMA exam.
5. Better "After-Service"
After you get the CMA certification and if you choose to stay active, IMA provides everything from free webinar (for CPE and self-learning) to a forum for members to exchange ideas and build networks. CPA, in comparison, has Society of CPAs in each state but the support is less impressive.
Is It Difficult To Decide?
Why not go for both? Here are the reasons:
1. There Are Considerable Overlaps
While the two exams test for different skills, they are essentially accounting stuff and you can expect, roughly speaking, 30-40% overlap. If you have taken the CPA exam, the CMA exam Part 1 can be considered a harder and more comprehensive version of BEC (Part 2 is somewhat similar to Level 1 of CFA).
 2. CPE Hours Are Good For Both

Both CPA and CMA require certain hours of continuing professional education. In fact, many CPE courses are good for both!
3. A Dual Qualification Makes You Stand Out
I think most people will agree that CPA is more prestigious but CMA is more practical. If that's the case, if you have a dual qualification, you have the best of the two worlds.
Here is a Summary of CMA vs CPA in Video Format
 You Next Step
Any Questions?
If you have comments on CMA vs CPA, I'd love to hear your thoughts in the comment box below.
You can also get more Certified Management Accountant exam tips on study tactics by signing up to my e-course which is completely free. You can learn about the mini e-course here or sign up directly below.