One of the reasons to pursue a professional qualification is to switch or advance your career. If you are a non-accountant looking to work in the finance and accounting department, or that accounting knowledge will help take existing careers to new levels, taking the CMA makes a lot of sense.
Here are my thoughts on whether a non-accounting major can become a Certified Management Accountant, and if it's ok, how to do it.
For those who prefer to read rather than watch a video, here is the same information in text format.
CMA for Non Accounting Majors: Does It Make Sense?
There is a tendency in some professions to get as many certifications as you can. There is nothing wrong to take several professional exams, as long as it's relevant to your existing or future career.
Is CMA for non-accounting majors? To help you answer this important question, here are the benefits that CMA can offer.
The CMA certification is the gold standard in management accounting in the US, and increasingly, in China and the Middle East.
CMAs get paid more versus non-certified accountants, as shown in this IMA salary survey in US and in the world
CMA skills are practical and in high demand, but CMAs are in short supply.
You can read more about the benefits on this page.
If this means a lot to you, it's great and please join our CMA community. Otherwise, you may want to think twice before investing your time, money and effort.
Overview of the CMA Exam
The CMA program is designed for those who have existing knowledge in accounting. The core exam content is set at an intermediate to advanced level, with other related content at a slightly lower level.
Having said that, accounting and the CMA exam is not rocket science. The exam is 100% computerized and is divided into two parts. Effective 2015, the exam topics cover the following:
Part One
External financial reporting decision
Planning, budgeting, and forecasting
Performance management
Cost management
Internal controls
Part Two
Financial statement analysis
Corporate finance
Decision analysis
Risk management
Investment decisions
Professional ethics.
Reference Materials
If you are serious about the exam, let's get up to speed with the basics. IMA has suggestions of relevant books for this purpose. You can download the suggested reading list here.
You can also get other books with similar titles from local libraries or bookstores. If you are an international candidate and your mother tongue is not English, feel free to get similar textbooks in your local language.
The idea is to get familiar with basic accounting concepts and principles. It is also a good way to decide whether you like this enough to take the exam.
When are You Ready for the CMA Review Course
Once you have a basic idea of accounting, you may want to get a review course. Their primary focus is not to teach you accounting, but to help you pass the exam.
Because of this, they don't cover the basic concepts and therefore be prepared to stop and get back to your reference materials if necessary. You may need more than the typical 100-150 studying hours for each part of the exam.
Some review courses focus on practice questions while others more on explaining the concepts.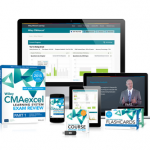 I personally find this Wiley CMAexcel course to be very suitable for non-accounting majors, because the main instructor, Professor Douglas Clinton, is excellent in explaining complicated concepts in a way that beginners can understand.
Any Questions?
If you have any questions on your unique situation, please drop me a note below. You may want to subscribe to my free e-course to learn more about the CMA exam: