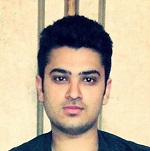 Waqar is our first blogger from Pakistan. He writes for us every Friday.
I'm here again with one aim: to help you guys (because you want me to keep writing so here I am with another post, and because of Stephine who supports all of us).  Let's get started.
The main discussion of this post is how to prepare for the CMA exam. I'm not saying that these are the ultimate guidelines — it may work great for some people while others can do better than this. Anyway, your idea is always welcome in the comment section just as Stephanie likes any new ideas (such as my analysis).
Now, ask yourself why you want to get this certification. Is it worth the effort? I asked myself these questions when I was going through the CMA. If you can answer these questions and have a clear goal to pursue the CMA, then you are all set. You are going to love this quote:
 Your goal is just in front of you, you just need to push a little."
Here are some points that I found helpful during my preparation. I am sharing these in bits — please bear with me — if I share all of them here this post will get a bit too long. There will be more tips in the coming week.
1. Choose the Right Course Provider
There are lots of course providers for the CMA exam and people get confused. I really recommend Gleim as it was my partner in CMA (and now in CIA) and I love all the content Gleim wrote.
2. Get a Back-Up
Gleim is good, and its online test prep is also the best you can get for the CMA exam. It has lots of questions beyond the exam level.
I also used the Wiley Intensive Review and the test bank, but I found it not that helpful as Gleim's.  I suggest using Gleim as a primary study material but if you are not satisfied with your practice, you can get other software such a Becker, Wiley, Hock, or ExamMatrix (note: now known as Surgent), They can be used as a supplement or as mock exams.
3. Follow Your Schedule
This is the best part that I want to share with you. Both parts of the CMA exam cover a lot of areas. If you don't follow a schedule, you will forget a lot of things. For example, if you are going with the flow, studying for a month but then for some reason you don't study for ten days, or miss a day or two in your study, then you will forget a lot of concepts. This happened to me — it's not like you will forget a hundred percent but likely sixty to eighty percent. This may not apply to some people, but to an average candidate like me, it did happen. Be consistent in your preparation. A very simple quote to help you motivate:
 Great things take time."
Hope this helps! I will continue to write everything that helped me get through this exam in the next post.
Lastly, I want to say I love your feedback because your feedback stimulates my mind during our interaction. I'm always around and we can discuss anything (except breaching the disclosure 😀 ) Best of luck to all the candidates who are preparing for the CMA exam.
Regards,
Waqar Akmal
Note from Stephanie
Thanks for your sharing again! I like how you mentioned that the #1 factor to consider is whether the CMA exam is worth it for the individual. If there isn't a good reason behind this certification, it's hard to motivate ourselves, or we will easily get distracted or give up.
I also agree that picking a course that suits our style and needs, together with a solid study plan is very important to passing success.