IMA has a series of CMA exam awards and scholarships to recognize top performers in management accounting.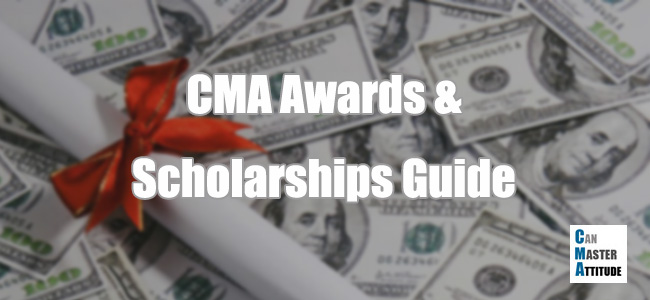 CMA Exam Awards
This is the recognition given to those achieving the highest scores in the CMA exam.
ICMA Gold Medal Winners
CMA exam candidates are awarded with the ICMA medals with the highest, second-highest and third-highest scores in each testing window. They will get a gold, silver and bronze medal respectively.
Around 5 to 10 candidates also receive the Certificates of Distinguished Performance. The criteria of this award is not disclosed.
The Priscilla S. Payne Student Performance Award is offered to the student candidate who receives the highest score in the testing window.
Other IMA Awards
These are competitions for university students, either by forming individual teams or through IMA student chapters.
1. IMA Student Case Competition
Teams of 3-5 university students to present a solution to each year's case. In 2017, the case was published in the August 2016 edition of Strategic Finance. All participants must be an IMA member.
2. IMA Student Chapter Award of Excellence & Outstanding Student Chapter
Student chapters enter this competition in promoting IMA's mission and providing activities or services to their student members.
3. Clark Johnson Achievement Award
Held annually since 2003, this award acknowledges a student chapter whose efforts best reflect outstanding leadership through innovation, organizational development, and interdependent partnerships.
4. Other IMA awards for members
Here is a list of global awards for accomplished IMA members.
CMA Exam Scholarships
These awards are granted as a waiver of fees from the IMA. Note that IMA will not pay related expenses such as CMA review courses and traveling and accommodation to the exam sites.
1. CMA Exam Scholarship Program
This is available for current students through their professors' nomination.
In order to qualify, the students should be top 5% or top 5 students in their bachelor or master's program. Junior (third-year student) is typically preferred.
2. CMA Doctoral Scholarship Program
This is for students in accredited doctoral accounting program specializing in management accounting or financial management. Students from US or international programs are welcome.
3. CMA Exam Academy Scholarship
I am not sure if this is still running, but this scholarship is open to current students, who must be a US citizen or legal resident. Candidates may submit a 1,000-word essay to apply.
Other IMA Scholarships
These are one-off stipends for doctoral research.
1. Doctoral Summer Research Scholarship Program
An one-off amount to alleviate the need for accounting doctoral students to teach during the summer and focus on research.
Research proposals may be from any area in management accounting, but the relationship between the topic and management accounting must be clear.
Scholarship recipients must complete the summer research paper as required by their doctoral program.
2. Doctoral Student Grant Program
This program aims to assist doctoral students in pursuing research in management accounting.
For Your Further Reading