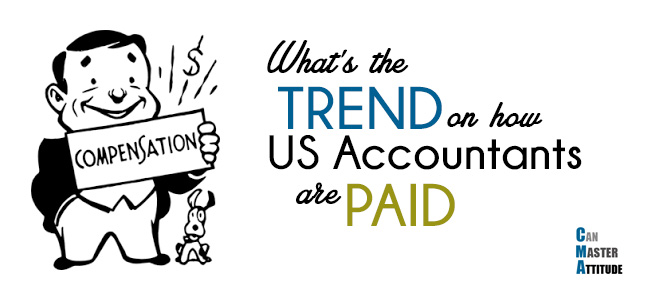 Take a glimpse of how much US accountants earn, by education level, job nature, size of the corporations they work for, and the industry they are in:
Profile of a Typical US Accountant
This analysis is based on the 2015 survey conducted by the IMA on its members. Most of them are either CMAs, or those aspiring to be one. I suspect the salary level of this group is slightly higher than the average accountant in the US.
The median age of respondents is 47. Around two thirds are men and one third are women. Practically all of them have bachelor degree and half of them have advanced degrees.
They have been working in the field for 20 years: 10 years with current employer and 6 years in the current position. Around 80% are married, two thirds have their spouse work outside of the home, and 57% are parents.
In terms of professional qualification, 58% are CMAs, 28% are CPAs, and 7% are CGMAs. 73% of respondents have at least one certification.
US Accountant Salary Trend from 2011 to 2015
In US dollars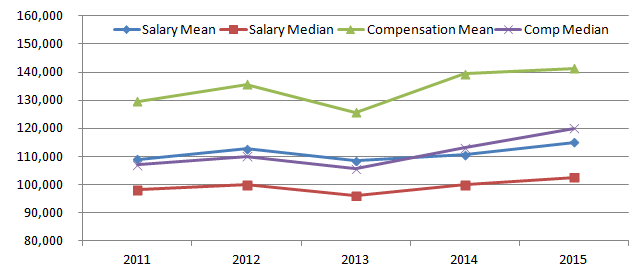 The median salary in 2015 was $102K and that for total compensation (i.e. salary plus benefits) was $120K.
This is a very high-level figure that may not have much meaning to us. But we can see, in a macro perspective, how overall US accountant salary is crawling up at a CAGR of 1.4%, and for compensation, at a slightly higher rate of 2.9%.
Additional Compensation
Around 63% an 20% of respondents received bonus and profit sharing respectively, with a few percentage point more getting overtime and other benefits. Altogether, 87% of respondents got some sort of compensation in addition to salary. On average, they got $16K more.
Premium from Professional Certification
In US dollars
There is a clear positive correlation between accounting certifications and salary.
The 2015 data shows salary for someone without certification at $97K, versus the CPAs at $126K, CMAs at $127K and the ones with dual certifications at $141K.
We can further breakdown the data by age. From the chart below, you'll see the impact from certification is apparent in all age group.
The upward trend for CPAs are more sporadic, possibly due to smaller sample size. The premium from CMA shows a more consistent increase with age advancement, possibly because the pay for senior finance professionals, such as strategic planning directors, controllers and CFOs, are much higher than regular corporate accountants.
In US dollars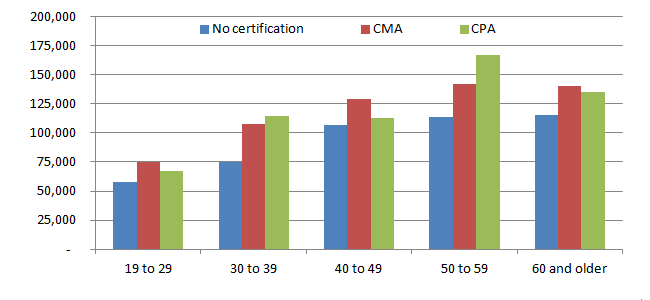 Impact on Accountant Salary from Education
In US dollars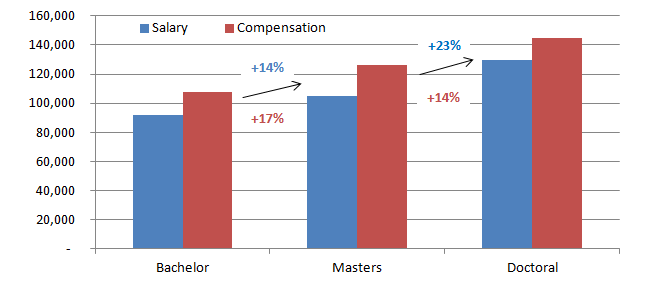 Accountant salary is also higher for those with advanced education. Those with masters degrees have, on average, a 14% premium in basic salary and 17% premium in total compensation. Those with PhDs have even higher salary range.
Most doctoral degree holders work in academia. As you will see from a later chart, universities and education sector offer higher-than-average pay to accountants. We also have another post on how accounting professors are in high demand.
Accountant Salary and Compensation by Company Size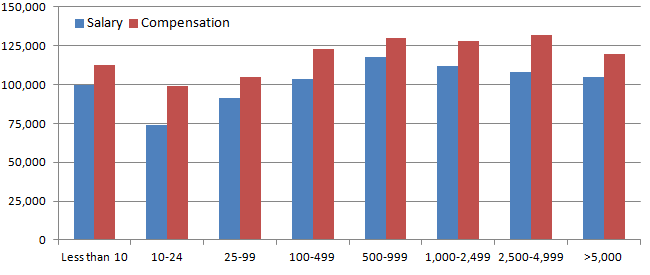 (y-axis: Salary / compensation in US dollars; x-axis: number of employees in the company)
I find this chart quite interesting. It is not surprisingly that smaller companies pay less, but the companies with less than 10 actually pay at the level similar to the medium-size companies. This trend has been consistent in the last few years.
I can imagine how many of these smallest companies are local CPA firms or sole proprietors, and they are able to earn more on a per capita basis.
By Industry
Compensation in US dollars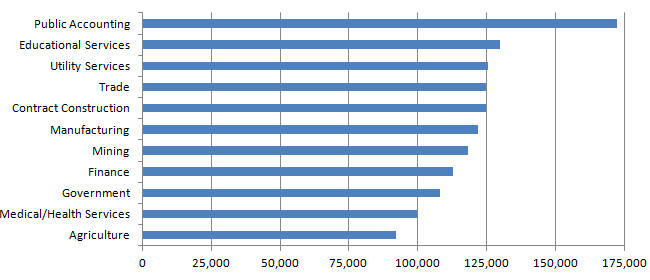 Again, not too surprising that public accounting earns the most. Note also that the sample size of public accountants are quite small this year and thus may have exaggerated the impact.
Educational services have consistently been a very well-paid industry. Government and agriculture are traditionally the lesser-paid. The rest are similar.
By Business Structure
Compensation in US dollars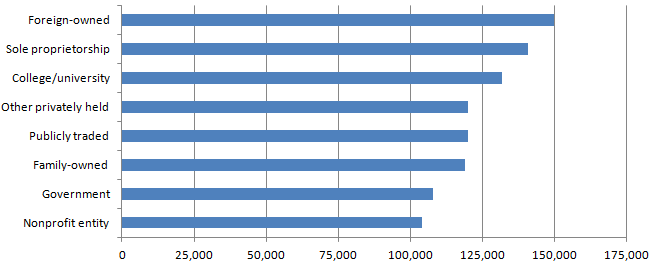 This chart shows a similar message: that people earn more being their own boss (sole proprietorship). We also mentioned how college and universities offer great salary packages to attract talents.
Not surprisingly, government and non-profit entities pay less overall.
By Job Function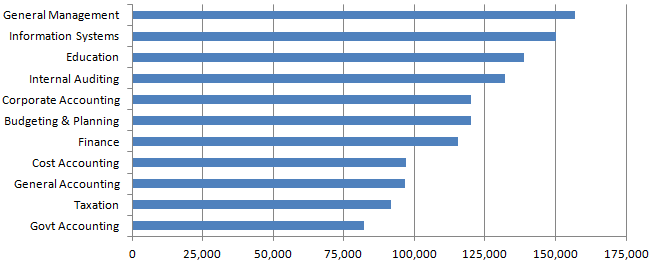 Lastly, on job function, general management, IT and education consistently rank among the top. Specialized functions typically pay more. For example, salary of IT auditors are higher than that of internal auditors.
As shown in the chart above, generalist positions (general accounting) rank lower than those with more specialized role, such as budgeting and planning and internal audit.
Cost accounting and government accounting are ranked at the lower end every year.
The outlier this time is taxation — I have seen tax experts ranking very higher before. This may due to a smaller sample size this year.
What does this Mean to You
Two obvious observations: education and relevant professional qualification bumps up your salary.
Down the road, it is also a good idea go for a niche within accounting. Specialization leads to better pay. Same case for specializing in an industry.
The size and structure of the company you work for has some impact on your potential compensation as well.
Would You Like Your Own Salary Estimate?
I've set this up based on the "Average US salary calculation" from the latest IIA US Salary Survey. Try filling in this simple form below and you can instantly get your own report via email:
For Your Further Reading