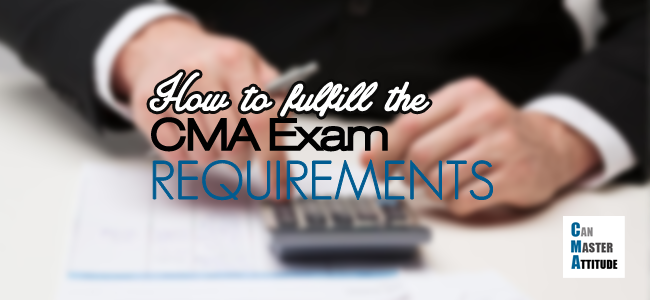 One of the benefits of pursuing the CMA certification is that the CMA exam requirements are very straightforward — as long as you hold a bachelor degree you are qualified to sit for the exam. Let's look into the details below.
Is There a Prerequisite?
There are two level of exam requirements you need to fulfill in order to become a Certified Management Accountant:
Educational requirements
Experience requirements
CMA Exam Requirements #1: Educational Experience
For educational requirements, as long as you have a Bachelor degree in a "decent" university in your country, you are qualified.
In other words, it can be 3-year or 4-year bachelor degree. By "decent", you can check whether your school is listed here.
If not, don't worry as you can still get qualified with an extra step to get your transcript evaluated. You can choose any agencies that is a member of NACES or AICE. Then, ask them to send an evaluation to IMA. You will also have to send an official transcript (in English) to IMA for their reference.
Students may sit for the exam before they complete their degree, provided they're registered for at least 6 credits per semester during the academic year.
Common Questions on CMA Educational Requirements
1. Is 3 year degree acceptable?

Yes, but you can always double check with IMA first if you believe your degree may not be consider equivalent.
2. What should I do if I can't get an official transcript sent directly to IMA?
You can mail a notarized copy of your transcript to IMA. Please note that faxed or emailed documents are not acceptable as the documents must be originals with the raised seal of the college or university or the notary.
CMA Exam Requirements #2: Working Experience
Each candidate will have to complete two continuous years of management accountant or financial management. The experience has to be verified but not necessarily by CMAs.
The nature of work can include the following:
Financial analysis
Budget preparation
Management information systems analysis
Financial management
Management accounting
Auditing in Government, Corporation and Public Accounting
Management consulting
Research, teaching and consulting in related field
Common Questions on Experience
1. Is there a "deadline" when I need to fulfill the experience? How about experience gained before the exam?
This requirement may be completed prior to or within seven years after completing the examination. There is no such limitation on experience gained before the exam. Teaching experience can be counted as well.
2. Is part-time work counted?
For part-timers (minimum 20 hours per week), each 2 years of part-time experience can be used to substitute for 1 year of full-time experience.
3. How about internships and trainee programs?
I am afraid they cannot be counted.
4. How about self-employment in a relevant field?
Yes if it is relevant, but subject to approval by IMA. Check out this first-hand experience from one of my readers:
I contacted IMA about the job experience requirements. I've had my own business for 16 years. They asked me to give them some details about the nature of what I do. Once I gave them the information, they told me I meet the requirements. Thought others who are self-employed might like to know this."

~ Glenda (thanks for sharing!)
5. I work in an accounting firm but have a supporting / administrative role. Can it be counted?
Non-technical positions in sales & marketing, IT, HR and administration is not be considered relevant. If you have multiple roles, e.g. a manager with both administrative and also technical job responsibilities, focus on your technical side in your work verification form.
Let me Walk You Through the Process Again with This Video
For Your Reference
Need More Information?
For more information on the CMA exam as well as tips on study tactics, consider signing up to my e-course which is completely free. You can learn about the mini e-course here or sign up directly below: