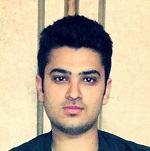 Waqar is our first blogger from Pakistan. He usually writes for us every Friday, but this post is specially written the day before his Part 2 exam.
This post is specifically written before the exam which I call last touch. Yes I am all set for the exam — I have completed Gleim test bank and Wiley test bank and now reviewing LOS (Learning Outcome Statement) and the essay questions for the part 2 exam.
CMA Part 2 Final Preparation: How to Mentally Get Ready for the Exam
1. Keep Your Cool
I would love to tell you some things before the exam and one of them is keeping your cool. This means don't take it as end of the world. It's just an exam after-all (even a big one). Pressure doesn't take you anywhere; it will only destroy the prep you have put so much effort in. Here is a quote which I think will help you:
Success is not final, failure is not fatal: It is the courage to continue that counts"
2. Do Your Best
I have done everything I could, prepared with the book and then question banks and that's all I can do, now just have to believe in myself. That's the only I can do now. Some people start to forget when exam draws near because of the fear of the exam. But that is wrong. If you have prepared don't scare yourself, simply do your best. Another quote for you which I am in love with:
If you believe in yourself, have dedication and pride and never quit, you'll be a winner"
3. Remember Your Goals
Everyone has a goal and just like everyone I have one, right now I have one goal, to become a CMA and prove myself that I can do anything. I found a great… or should I call it a blazing quote during my search on the internet, which is:
Don't just meet your goals, destroy them"  it means complete your goals with passion.
4. Ready Yourself for Prometric
My experience at prometric was quite normal and I am prepared for the prometric but I don't like their over-protectiveness. Last time when I took Part 1, they checked at least 3 times before you can enter the exam plus data entering after arrival in the main room e.g fingerprints, signature, physical checking, adding time of arrival on the sheet where you sign, plus they take your pictures (face only) from different angles, it takes 10 to 12 min there.
First timer often gets confused because of this long procedure, so prepare yourself for this and prepare all the things necessary to enter the exam hall: option 1- passport, and option 2- National ID card with debit or credit card. One cannot enter without fulfilling one of these requirements. Finally just want to end with a great quote:
Success doesn't come to you, you got to do it"
I am a quote lover because it burns my soul to work hard and I would love it if you could write some of the quotes you think is amazing and can help before exam.
Regards,
Waqar Akmal
Note from Stephanie
Thanks so much for writing a post in this time of intense preparation. The post is a great motivation itself! Many candidates are taking the exam at the end of the testing window. My very best wishes to you, Waqar, and to my other readers.
The following two tabs change content below.
Waqar Akmal
Howdy guys, I am Waqar Akmal, would love to call my self latest in the community. I have recently completed bachelors of arts from Financial Training Center. I didn't pass my Part 1 at first, but gave it a try using a different strategy and passed. My Part 2 was done on my first attempt.
Latest posts by Waqar Akmal (see all)